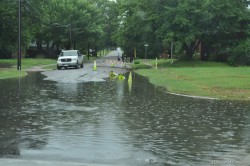 Saturday afternoon the National Weather Service extended the Flash Flood Watch through Sunday afternoon, November 29th. Forecast for Sunday calls for 100% precipitation during the day and 60% chance Sunday night.
A flood warning was issued for Hopkins and Delta Counties Saturday morning and a River flood warning remains continues. Flood conditions have been reported along the South Sulphur River and several low lying areas. Some roadways in northern Hopkins County have been closed Saturday due to flooding.
The flash flood watch includes portions of:
NORTH CENTRAL TEXAS AND NORTHEAST TEXAS… INCLUDING THE FOLLOWING AREAS…IN NORTH CENTRAL TEXAS…   ..COLLIN…COMANCHE…COOKE…DALLAS…DENTON…EASTLAND…ELLIS…ERATH…FANNIN…GRAYSON…HAMILTON…HILL…HOOD…HUNT…JACK…JOHNSON…KAUFMAN…MILLS…   MONTAGUE…NAVARRO…PALO PINTO…PARKER…ROCKWALL…SOMERVELL…STEPHENS…TARRANT…WISE AND YOUNG.
IN NORTHEAST TEXAS…DELTA…HENDERSON…HOPKINS…LAMAR…RAINS AND VAN
According to the NWS: RAINFALL AMOUNTS…ADDITIONAL RAINFALL AMOUNTS OF 1 TO 2 INCHES WILL BE POSSIBLE THROUGH SUNDAY AFTERNOON. THIS RAINFALL IS IN ADDITION TO THE SEVERAL INCHES OF RAIN THAT HAS ALREADY FALLEN ACROSS THE REGION SINCE THANKSGIVING DAY.
MAIN FLOODING CONCERNS…GROUNDS ARE SATURATED AND ANY   ADDITIONAL RAINFALL WILL LIKELY CAUSE FLOODING ESPECIALLY NEAR CREEKS AND STREAMS. WATER CAN RISE EXTREMELY QUICKLY WITH LITTLE ADVANCE WARNING WHEN GROUNDS ARE SATURATED. NEVER DRIVE INTO AREAS WHERE WATER COVERS THE ROAD!
PRECAUTIONARY/PREPAREDNESS ACTIONS… GROUNDS ARE SATURATED AND CONDITIONS ARE FAVORABLE FOR SUDDEN FLOODING WITH ADDITIONAL RAINFALL. YOU SHOULD MONITOR THE LATEST FORECASTS FROM THE NATIONAL WEATHER SERVICE AND BE PREPARED TO TAKE ACTION SHOULD FLASH FLOOD WARNINGS BE ISSUED FOR YOUR AREA