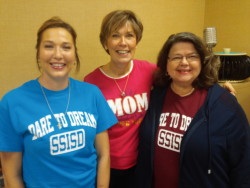 Counselors Carey Lobin of SSES and Nancy Kirby of SSMS are promoting the November 10 Family Series at Sulphur Springs Middle School. Students, parents, grandparents and anyone interested are invited to attend the informative program. A hot dog meal will be served at 5:30pm and the program will start at 6pm. Childcare for younger children will be provided. This parent session is entitled "Socially Safe Students" will address Bullying, Cyber Safety and Teen Dating Violence. Speaker will be Jenni Morse, Assistant District Attorney.  Two more informative sessions are planned on January 6 and April 7, 2016.
The November 10th event  will focus on Bullying. Parents and family members will learn about the different types of bullying, why kids bully, the warning signs, and how to help your child if he/she is a victim of bullying. Cyber Safety is also a concern addressed. With unlimited access to people and informatiion, children are more vulnerable to a host of dangers. Teen Dating Violence will focus on unhealthy, abusive, or violent relationships that bring severe consequences and short and long-term negative effects on a developing teen.
For more information, contact any SSISD Counselor or phone 903-885-2158.