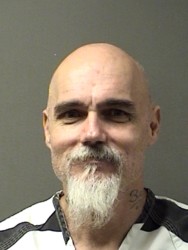 Mark Covington, 46, of Pickton sentenced Wednesday by a Hopkins County jury to prison for concurrent life sentence and to 20 years on separate counts of tampering with a witness is a captain in the Aryan Circle and based on his tattoos, he has committed acts of violence on behalf of the gang, according to Clay Harrison, Assistant District Attorney. Security had been tight during the Tuesday trial and the Wednesday penalty phase of the trial.
Harrison said he was unable to present the evidence during the trial or penalty phase because the experts were unable to be present. However, he said the information would be forwarded to the Texas Department of Criminal Justice "in order to have Covington confirmed as a known gang member.
Covington, according to Harrison, is a white supremacist which is exemplified by "White Pride" tattoos as well as numerous neo-Nazi emblems.
Around 7:30 p.m. Wednesday night, a Hopkins County jury that had found Mark Covington, 46, of Pickton guilty of two counts of tampering with a witness sentenced him to life in prison for one count and 20 years in prison for the other count. The sentences are to run concurrent. Assistant District Attorney Clay Harrison presented a series of incarcerations to which Covington had been sentenced. The incarcerations date back to 1998 and sentences were handed down in Erath, Johnson, and Parker Counties. Witnesses also testified to his attempts to tamper with witnesses regarding his parole violation.
Security remained tight Wednesday morning at Hopkins County Courthouse as the jury heard the sentencing phase for Covington. Security had been tight Tuesday as County deputies sought to provide a safe environment for voters on the first floor and protection for a trial underway on the second floor of the Courthouse. In a day long trial Tuesday, Covington was found guilty of the two counts by a Hopkins County jury in 8th Judicial District Court Tuesday afternoon.
Covington has been in Hopkins County jail on January 17 of this year. At that time he was incarcerated for violation of parole, possession of a controlled substance over 1 gram and under 4 grams, forgery of a financial instrument, prohibited substance in a correctional facility, and two charges of tampering with a witness. He was charged again on February 13th with forgery and possession charges. In May, another tampering charge and on October 2nd another tampering charge.
Covington was incarcerated in January after a manhunt for him ended shortly after midnight January 17, 2015 in Hunt County. He had been on the run since Thursday night, January 15th when he first fled from Hopkins County Sheriff's Investigators and Deputies into a large wooded area off of FM 2285 near Pleasant Grove.  Shortly after noon Friday, Hopkins County lawmen went to a motel along I-30 after the man had been seen in that area.  He left before officers arrived. Hopkins County lawmen aided by the Greenville Police Department and K9 Officer, Hunt County DPS and Hunt County Sheriff's Deputies set up a perimeter and captured the man.