Commercial Dumpster Exchange Underway; Residents Asked to Observe 7 a.m. Deadline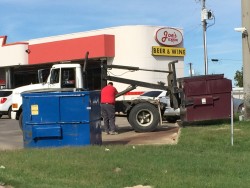 Commercial garbage pickup in the City of Sulphur Springs will not be interupted by a change in collection companies beginning January 1, 2016, according to City Manager Marc Maxwell. Sanitation Solutions is already putting their different colored dumpsters in place at commercial collection sites. Republic will continue to collect garbage at all locations until the end of the year. Schedules for commercial collection and residential collection will remain the same when the change occurs.
Maxwell pointed out that according to both the old contract and the new contract, residential customers are to have their trash curbside by 7 a.m. The existing contract with Republic and new contract with Sanitation Solutions calls for trash to be placed in bags and no more than six bags on collection day. Maxwell requests that residents observe the 7 a.m. curbside time, especially as the new company begins pickup January 1st.
This is the first change in trash service companies in 20 years. Sanitation Solutions, the new service company, will keep the expense the at the same rate for the city.