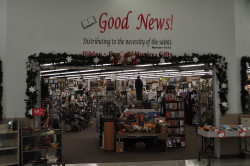 The Good News Bookstore, a Christian bookstore, will soon celebrate its 25th anniversary under the ownership of Garry and Gena Jordan. Owners Garry and Gena Jordan were guests on KSST's Good Morning Show with Enola Gay Tuesday morning. Garry said it is hard to believe they have been in business that long.
Once known as Thee Bookstore, the Jordan's began ownership of the bookstore when it was located under the then old water tower on Main Street just blocks off the square. They moved from that location to a location in Windsor Plaza. Now located in the VF Outlet Mall, the Jordan's purchased The Good News Bookstore in Mt Pleasant and changed the name of the local store at that time.
Both Gena and Garry worked in the 41-year old business long before owning it. Gena worked volunteering her time when she first started in the bookstore started by a group of local Christian business leaders. When the store began, the owners at that time could only afford to pay one worker.
The Jordans' are currently celebrating the anniversary.