Chamber Connection  
November 5, 2015 by Meredith Caddell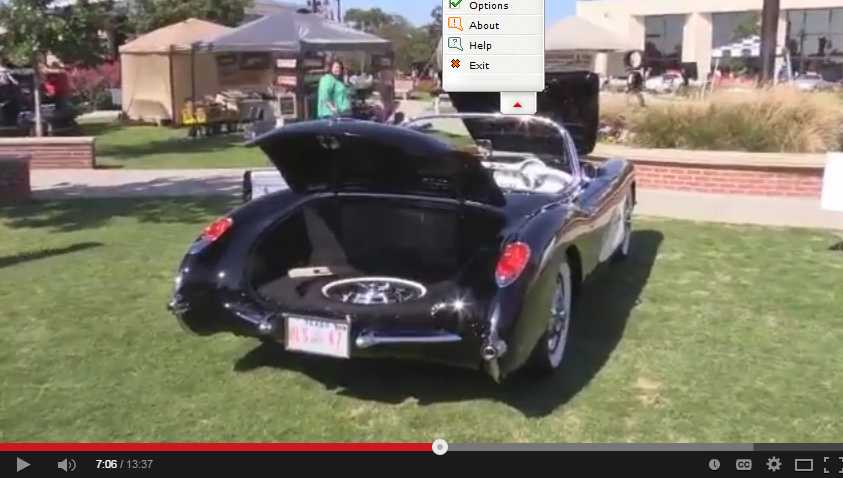 Heritage Square Car Show, Saturday, November 7th from 8-3, downtown Sulphur Springs!
This Saturday Nov 7th from 8 am to 3 pm the 10th annual Heritage Square Car Show, which is hosted by the Downtown Business Alliance will be downtown on the Square.  Everyone is welcome to come out and see all the 180 plus classic cars and trucks.  They will have the Nationwide Insurance Dale Jr's Race car on display, (provided by Jason Tully at Tully Insurance Agency) to include a simulator that everyone is invited to see what it is like on a real race track.  There will be chances to win prizes to include a chance to win an autographed racing helmet worn by Dale Earnhardt Jr.  All the local businesses will be open including Pioneer Café'.
They will be giving away $1000, $500, and two $250 cash prices to four lucky participants who will enter their 1987 and older vehicle into the show.  This year they will also have a quilt of all the T-shirts put together from the last 10 years.  They are a $1 a ticket or 6 for $5.  You can purchase those at the Millennium Shopper or next door at Tully Insurance Agency, located at 109 Jefferson St., downtown behind the courthouse.  There will be over 20 different awards given out at this show.  To include "Spectators Choice."  So come downtown and tell them which vehicle you think is the best.  You can find more information at http://www.sulphurspringsdba.com/ or https://www.facebook.com/SSDBA-107637559314916/ .  You may also contact Rita Edwards at Edwards Used Cars 211 Gilmer St 903-885-1236.
Who's College Flag will Fly Over the Courthouse over Thanksgiving?  Here is your chance to BID!!!
Tuesday November 10th 7-10am the HCMH Foundation, Lights of Life Committee will be on Thunder Country taking bids to see which alumni flag will be flown on the courthouse flag pole. The winning flag will be raised on Tuesday, Nov. 24th and will fly over Thanksgiving weekend!  On Tuesday, Nov. 24th please come down to the square at 6p.m. to enjoy the raising of the flag. 
2015 AgriLife Extension Banquet
The 2015 Texas A&M AgriLife Extension Banquet will be held on Thursday, November 12, at the League Street Church of Christ.  A meal will be served starting at 6:00 p.m. followed by guest speaker, County Judge Robert Newsom, and program overview by Extension Agents Johanna Hicks and Mario Villarino.  Extension committees, Master Volunteers,  4-H "I Dare You" recipients, and Outstanding Extension Supporter of the Year will also be recognized.  Please call 903-885-3443 to RSVP.
Load the Wagon & Saddle Up for St. Jude Trail Ride, Saturday, November 14th  
Saddle up your horses and help St. Jude Children's Research Hospital fight cancer and other catastrophic diseases.  The event will take place on Saturday, November 14th at Two J Ranch, 993 CR 2331 in Como.  Gates will open at 7:00am, Saddle Up at 9:30 and Ride out at 10:00am.  A free lunch will be provided, but remember…it is a fundraiser to help St. Jude's Hospital, so donations will gladly be accepted.  There will be horses and mule wagon rides available.  There is a $10 minimum donation for you to ride your own horse.  If you would like more information, please call Jean & Jim Murray at 903-488-3030 Sandy Billodeau @ 903-488-3311 or Jr. Gregg at 903-488-3685.  Others assisting in this great event are Cathi & Jim Wright 903-488-4811 Don Meeks 903-488-3456, Mike Mund, T.W. Little, Daniel Walker, Carole Hatch and Jo Marie Neal, so any of them will be able to give you more information.  If you have never participated in this event, it is spectacular and you should!  Not only is it raising money for an amazing hospital, but to see the hundreds of people, loaded up in their wagons, heading out for the cause…it is absolutely incredible, so please try to attend!!
History By Foot with John Sellers, Saturday November, 14th at 10:00am
The Sulphur Springs Downtown Business Alliance presents the 10th Semi-Annual History By Foot with John Sellers.  Join John for a walking tour of downtown Sulphur Springs and discover the history of some of the historical buildings and landmarks and learn what events took place where!  The tour will begin by the flagpole in the center of the Celebration Plaza (square).  They will stroll down College Street and will see the historic Presbyterian Church, down to Jackson Street and over to Jefferson Street by Payne Electric then back up Jefferson to the square.  Lots of interesting buildings in this area that they have not explored on the tour.  Did you know we had an Opera House on Jefferson Street?  Transportation will be available for those of you who have trouble walking.  The tour is only $10.  Please make your reservations early.  A second tour may be available if the first one fills up.  You may make reservations at Alliance Bank, City National Bank or The Hopkins County Genealogical Society at 903-885-8523 or call 903-438-4831.
Twogether in Texas Marriage Education Workshop
Registration for the next workshop is now taking place.  The workshop will be held on Saturday, November 21, at the Texas A&M AgriLife Extension Service, 1200-B W. Houston, Street, in Sulphur Springs, 8:30 a.m. to approximately 3:30 p.m.  The workshop is free and engaged couples will receive a certificate to save $60 upon applying for a marriage license.  The certificate is good for one year from the issue date.  Topics include marriage expectations, communication, conflict resolution, money management, and goals & dreams.  Please call 903-885-3443 to sign up.  Lunch and refreshments will be provided.
5th Annual Hopkins County Turkey Trot 5K Run/Walk, 10K Run and Kids Fun Run, Thanksgiving Day!
Make room for your holiday meal by participating in the Turkey Trot benefitting Braden Tinsley and in honor of Micah Reed.  This run/walk is presented by Mother's Culture Club.  The 5K will begin at 8am with a $30 entry fee.  The 10K Run will begin at 8am with a $40 entry fee with a pace <12 minute/mile.  The kids Fun Run will begin at 7:30 with a $5 entry fee for 10 years and under.  It will begin at Celebration Plaza downtown Sulphur Springs.  You may register at Fieldhouse Sports or register online at www.rctregister.com.  Early registration ends November 5 with a t-shirt guaranteed for 5k/10k early registration.  Packet pick up Wednesday, November 25 from 5-8pm at SSFBC the ROC.  This event is sponsored by many caring individuals and local businesses.
Western Rodeo Day…Friday, November 20th!!!  Let's Make the Cowboys & Cowgirls feel welcome!
Remember the old Rodeo Days?  When we all dressed up western, wore our boots, hats & bandanas?  Well, we want to see what business in town can take us back to those days!  It is so important for us to show the rodeo cowboys and cowgirls how thankful we are that they are in Sulphur Springs for their finals rodeo.  We want every business in town to welcome them to Sulphur Springs!  We would like for every business to dress up, decorate the front of your business and/or windows, put "welcome rodeo fans" on your signs/marquees…anything you can do to transport Sulphur Springs back into the old rodeo days on Friday, November 20th.  That is the first night of the rodeo and we want the contestants and fans to see that we support them!  Come on Sulphur Springs…dust off your boots, put your cowboy hat on straight and let's celebrate the rodeo.  59th United Finals Rodeo-Nov 20th, 21st & 22nd at the Hopkins County Civic Center
Sulphur Springs Symphony League Auction, November 21st  @ 6pm
The Sulphur Springs Symphony League will hold its annual fundraising auction on November 21 at 6 p.m.  On that Saturday, listen to KSST Radio 1230, watch Suddenlink Channel 18 or follow on KSST.com to bid, win and enjoy the fun of the auction.  This year's auction features several new and unusual items and experiences, so be sure and tune in.  The list of auction items will appear in the News-Telegram, Millennium Shopper, and frontporchnewstexas.com.  Items will also listed on the Symphony League's website at www.SulphurSpringsSymphonyLeague.org and Facebook page.  Have that information available during the auction, so you can keep up with the fast-paced, all volunteer chaos that occurs for only six hours each year.  To bid that evening, call 903-885-0700 and speak with our Hopkins County celebrities on the telephone bank.  
Proceeds from the auction allow the Symphony League to produce the Independence Day Celebration and Fireworks show as well as the Children's Concert.  The Symphony League also supports the SSISD strings program through an annual scholarship and other endeavors.  
For information about getting your business represented in the auction or for questions about the auction process contact Linda Galligher at 903-439-6713 or Kayla Price at 903-885-1586.
CASA Cookie Walk, December 4th from 9am-Noon at FUMC Family Life Center
Please stop by the Family Life Center at First United Methodist Church, Friday, December 4th between 9:00am and Noon for a Room full of Cookies!  Cookies are $5/pound and all of the proceeds benefit our local CASA program.
Christmas in the Park, Saturday 11/28 & Saturday, December 5th from 5:30-8:30pm
Each year they open the Historical Park to visitors of Christmas in the Park. The event begins at sunset and lasts for three hours. While in the park, visitors can enjoy a spectacle of lights, strolling carolers, musicians, a live nativity scene and Santa Clause. Free hot cocoa, coffee, punch, cookies and other goodies are served in various building on the grounds. Most of the historic buildings are open, with volunteers dressed in period costumes to help give the feeling of stepping into the past. The festival will run from 6 pm to 9 pm. The $5 admission ticket is eligible for one of our many door prizes to be given away, compliments of local business owners.
The blacksmith shop is alive with the glow of metal and the sparks of burning coal as the blacksmith demonstrates his trade. The general store is filled with turn of the century items and is warmed by a wood stove to warm chilly visitors. Christmas decorations, some handmade, will be for sale there. A cozy one room log house is warmed by fireplace with someone serving warm treats. The chapel is alive with the sounds live Christmas music. The Atkins House has a beautifully decorated Christmas tree with hostesses serving punch and cookies. There, visitors can hear a dulcimer and violins playing Christmas music. In the Wilson House the children can tell Santa what they want him to bring them. There you can drink hot cocoa on the porch while looking at the beautiful light display. Even the 1929 fire truck is decorated with lights. Peanuts roasted on a wood stove are for sale at the servant's quarters. Hot popcorn is also available at the print shop.  Come and step back in time to enjoy the start of the Christmas season.
Lion's Club Electric Lights Parade and Christmas on the Square, Friday, December 4th
Line the streets of Connally and around the Square for the beautiful electric lights parade.  If you are interested in entering the parade, stop by the Chamber office for the rules and entry form!  
Along with the parade will be Tree Lighting, Snow Slide, White Tigers, Petting Zoo, Pony Rides and Vendors All beginning at 5:30
Attention All Chamber Members….Membership Directories are being prepared NOW!!!
Chamber Members, we are going to print a little earlier than normal for the 2016 Membership Directory.  We are going to have it ready for distribution the first part of January, so we need you to do a few things…
Please go to

www.sulphursprings-tx.com

and click on the membership directory.  Please check to make sure that we have the correct information for your business.  We have been trying to check and recheck it but I'm sure we have made some errors, but we want to fix them.

If your membership investment is past due, payment arrangements need to be made prior to
December 4th.
If you find information that needs to be corrected, please call the Chamber at 903-885-6515!

If you want to place an ad in the directory, please contact Lee Ann Peugh at 903-885-8663.
We would like to welcome the newest Chamber of Commerce Members:
LUCY LOCKETS POCKETS
405 Gilmer Street
Sulphur Springs, TX  75482
903-654-9687
Mary Day, Owner
Clothing Store/Accessories
LaQUINTA INN & SUITES
1344  Eaton Drive
Sulphur Springs, TX  75482
903-885-8181
Cynthia Alcorn, Manager
Hotel
doTERRA ESSENTIAL OILS
958 CR 1116 W.
Sulphur Springs, TX  75482
903-335-5003
Anita Beasley
Health/Beauty /Wellness
doTERRA ESSENTIAL OILS
PO. Box 274
Yantis, TX  75497
903-335-7004
Laura Adair
Health/Beauty/Wellness
That's all for now…have a GREAT week!