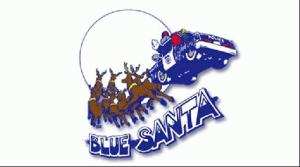 Local law enforcement officers are gearing up for this year's Blue Santa toy drive for children in need this Christmas. Sulphur Springs Police Chief Jay Sanders discussed Blue Santa on KSST's Good Morning Show with Enola Gay Friday morning. Blue Santa has been a part of the local community for around 10 years according to Chief Sanders. Law enforcement officers working together with CanHELP collect toys for children who would not receive toys for Christmas, according to Sanders.
Five different organizations are participating in the program. Blue Santa expects to assist approximately 1500 to 1600 families, Sanders said. Both money and toys may be donated. Donations may be made November 30th and December 1st. Blue Santa will be set up for drop offs at Wal-Mart this year.
Sanders says the giving of Sulphur Springs and Hopkins County enables Blue Santa to reach its goal each year. Three give back days are also planned at Chili's for Mondays in November beginning on the 9th.