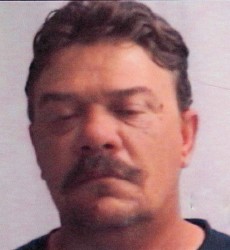 Sheriff Ricky Jones is pleased to announce a suspect has been arrested in connection the Armed Bank Robbery of the Lake Cypress Spring Branch of the First National Bank of Mount Vernon. In a multi-agency effort with the Bowie, Red River, and Franklin County Sheriff's Offices, the Texas Department of Public Safety's Texas Rangers Service, and the Federal Bureau of Investigations (FBI), Bank Robbery Suspect Bobby Wayne Lance was taken into custody at approximately 4:00 P.M on Friday November 20, 2015. Suspect Lance was transported to the Red River County Jail and booked in for Aggravated Robbery without incident and is expected to be transported to Franklin County Jail early next week.
Sheriff Jones stated Suspect Lance was also a suspect in an Armed Robbery in Bowie County, TX on Saturday November 14, 2015 which occurred at Carter Store and RV Park located on FM 990 just South of IH-30 in Bowie County. Sheriff Jones stated that after learning of this incident and reviewing video from both the Bowie County Armed Robbery and Franklin County Armed Robbery "we felt we were dealing with same suspect. With these leads we began working together with assistance from the Texas Rangers and FBI."
On November 20, 2015 Red River County Sheriff's Office received a tip of the name and location of the Suspect in the Armed Robberies. Members from Bowie County and Franklin County Sheriff's Offices, and FBI met in DeKalb, TX, then moved to Avery, Texas meeting with the representatives from the other mentioned agencies and formulated an apprehension plan for the Suspect. At approximately 4:00 PM officers descended on Suspect's residence located at 165 North Austin Street, Avery, TX and were able to take him into custody without incident. Sheriff Jones added, that He, as well as Sheriff James Prince of Bowie County and Sheriff Jimmy Caldwell of Red River County all understood the importance of getting the suspect located and into custody both to prevent the inevitable escalation of violence of this type of criminal and to provide peace of mind to the victims of the armed robberies who were traumatized by the events and the safety of the public in general.