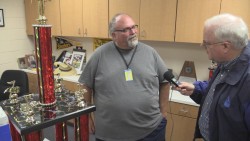 How good of a day did the Wildcats Marching Band have at a Prairiland contest Saturday against a field of quality bands? They took home a trophy, six (6) feet tall, so large it won't fit in any the band's trophy cases. Band Director Charles McCauley said that all the bands in the contest were Division I rated bands.
McCauley stated that the state winning former band director at Queen City is now at Mineola and they are now winning. The Mineola band won Grand Champion last week at Mt Pleasant where the Wildcat Band had placed third. McCauley stated the local marching band competed against not only Mineola but also Mt Pleasant, Redwater that was second in state last year, Winnsboro and others. McCauley said the competition was good to give confidence going into the Area contest.
The Wildcat band will compete Saturday at Mesquite Memorial Stadium in Area competition.