Wildcat football travels to Longview for the next to last game of the 2015 season Friday night. Kickoff is set for 7:30 p.m. While the Wildcats are winless, the Lobos of Longview are planning playoff plans. They are at the top of the district list with Marshall and Texas High. If the Lobos win out they will share the district title. Wildcat Coach Greg Owens and Lobo Coach John King discussed the game this week with KSST Sports Director Don Julian this week. 
Longview Head Coach King said the Lobos had found their identity and hit their stride during district play. Running the football is the strength of the Lobo offense according to King. In the rain last week, they didn't throw the ball much. Rain this Friday night may hamper their passing game as well. King starts his team with a strong pre-district schedule. Lufkin, John Tyler, and others are considered perineal strong East Texas teams. Tyler Miller, the Lobos' premier running back will be stronger this week. He is in the third week of recovery from an injury. King said the running attack had been "by committee." He expects the Wildcats to rise to the occasion for the game this week.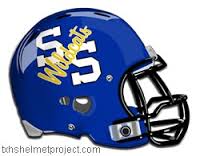 The Wildcats have been a strong first half team this season but the second half has given the team problems. Some are calling the game this Friday a David and Goliath match up, with the Wildcats being David this year. Wednesday Wildcats Football Coach Greg Owens referred to Friday night opponent Longview as year in and year out the best program in East Texas. Owens said the Lobo defense will create difficulties for the Wildcat offense. Speed, size, and the ability to read the opposing offense contribute to the Lobos' ability. Lobos offensive line is huge with a 385 pound lineman, according to Owens. 
The Wildcats have been able to move the ball up and down the field but when within the red zone problems occur. Owens calls the Lobos a strong inside-their-own 20 team. 
To get ready for the Lobos, who Coach Owens also called athletically the best team in the district, the Wildcats went to the movies as a team bonding activity Monday.  They saw the faith-based football film, Woodlawn.