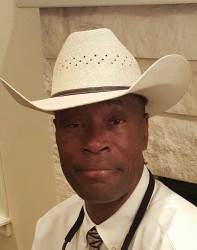 Donnie Wisenbaker, Chairman of the Hopkins County Republican Party has announced that Harry D. Washington has announced his intention to run for the Office of Sheriff in Hopkins County. Harry is a 28 year Veteran Peace Officer who holds a Master Peace Officer and instructors license.
"I am a professional who has already made a difference in the State of Texas by training Officers in various degrees within Law Enforcement. I started my career with the Pittsburg and Mt Pleasant Police depts. I have 16 years as an Investigator with Ark-La-Tex Narcotics Task Force, commissioned by Cass County District Attorney Office under the command of Texas Department of Public Safety. I have also served as a Special Crimes Investigator with the Morris County District Attorney Office. I currently hold my commission with the Hunt County Sheriff Office as their Narcotics Investigator. "
Washington believes Hopkins County is composed of citizens and residents that are expecting a continued improvement of great law enforcement services. Washington is running for Sheriff in order to empower Law Enforcement officers and agencies in Hopkins County to achieve this purpose.
As part of his platform and program to serve our community, Washington holds as primary focus
Lower the crime rate and more aggressive prevention of crime by exerting tactics that will reduce the outside causes of the criminal aspect of Hopkins County
Bring in a higher level of training for all Sheriff Department officers
Implement community Policing and Citizens on Patrol program
Washington has guided and participated in successful operations confiscating drugs and narcotics, including but not limited to the apprehension of traffickers and seizure of illegal drugs estimated at two million dollars street value; also seizure and apprehension of drug money equivalent of two million dollars, that money was employed to fight back against drugs and in other Law Enforcement needs.
Honesty, integrity, unity, and a focus on serving the Community are values passed on to Harry Washington due his distinguished and traditional family background. His parents – Troas and Virginia Washington local builders; His brother was a U.S. Attorney in the Western District of Louisiana; Aubrey and wife Lillian Washington who served as a Councilman and Mayor. Harry has a rare trait of an open door policy for all who comes to him for their concerns and well-being each will be handled in a professional and Christian manner. This is the level of commitment that has kept him motivated to further serve our community of Hopkins County.