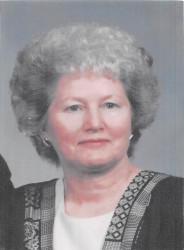 A graveside service for Wanda Faye Beaty, age 80, of Sulphur Springs, will be held at  Greenview Cemetery, Sunday, October 11, 2015, at 2:00 p.m., with Reverend Fred Lewis officiating.  Visitation will be at 1:30 p.m. at Greenview Cemetery.
Mrs. Beaty passed away on Friday, October 9, 2015 at her home surrounded by her loving family.  She was a thirty two year member of the First Baptist Church of Sulphur Springs, was a member of the "Love" Sunday School Class and dearly loved them all. She was a member of the "Ding A Ling" social club, and avid reader and quilter.  She was a charter member of the Lone Star Heritage Quilt Guild and was honored to have a "Life Time" membership bestowed upon her.  She loved partying with friends and traveling with the quilting ladies to various quilt shows.
Wanda Faye Hill Beaty was born August 7, 1935 in Lynn County, Texas to Walter T. and Ollie Keeton Hill.  She graduated from Tahoka High School and was employed as a nurse in Tahoka when she was introduced to her future husband, Armond Beaty.  After Armond returned from Korea they were married February 15, 1954 in Clovis, New Mexico.  They were blessed to have three wonderful children born to them in Stillwater, Oklahoma.  Even though Wanda loved to travel, she did not take well to moving.  Yet, she managed to live in ten cities and three army posts.
She was preceded in death by her parents and son James Clifton Beaty.
She is survived by her husband, daughters; Sharon Lea Hough and husband Greg of Princeton and Karne Lynn Uliasz and husband Gary of Mesquite.  Four grandchildren; Gene Ray Tabor of Waco, Ashley Hough DeVore and husband Jay of Little Elm, Clifton W. Beaty of Wichita Falls and Andrew Uliasz of Dallas.  Two great grandchildren; Zoe Beaty and Carter DeVore.
Arrangements are under the direction of West Oaks Funeral Home.