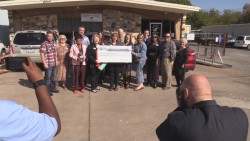 TXU Energy Aid has partnered with Hopkins County Community Chest to enable assistance for those in crisis to pay utility bills. A check presentation took place Tuesday morning at Community Chest on Linda Drive. Kim Campbell, with TXU, said they would partner with Community Chest following changes made in local agencies who serve those in need. TXU chose to partner with Community Chest because the agency is not tied to those with low income but also serves those in crisis situations. Campbell said this would be a long term relationship.
TXU works with 1,000 agencies across the state that assist TXU customers. TXU provides funds to 80 agencies in the state. TXU utilitizes over $5-million dollars each year in assistance. The TXU utility assistance program has been in existence for almost 32 years. Funds used come from donation by TXU customers.
Judy Moore, Executive Director of Community Chest, said the agency assists about 6,000 clients during the year. Community Chests helps with utility bills as well as medication and funds to provide transportation to doctor's appointments. She said that to this point they had been restricted to $50 for each specific need. Much of the funding for Community Chest comes from United Way. Moore said the TXU partnership will allow them to assist TXU clients by giving more to each specific utility need and frees money that was used for TXU utilities can now be channeled to other needs. Moore will be accountable to TXU for the funds used.