Tira News
By Jan Vaughn
Some of the Tira residents will be participating in a community garage sale today (Friday) and Saturday, October 2nd and 3rd.  It should be a nice weekend to be out shopping.
Destri Weir, Dacy Campbell, and Dustin Weir and their families met Yvonne and Robert Weir at Gloria's on Lake Ray Hubbard in Rockwall on September 19th to celebrate Destri's birthday a little early. They enjoyed a delicious meal and a good visit.
Chip and I visited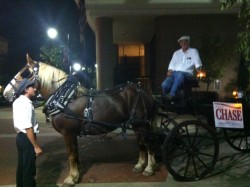 with Linda Ellen and Grace Vaughn at Grace's apartment in Sulphur Springs on Saturday evening, and then we met Garry and Gena Jordan, at Bayou Jack's, where we shared a delicious meal outdoors and had a wonderful visit. Afterward, we enjoyed a carriage ride with Pat Chase. He is open for business every Saturday night.
Grace, Linda Ellen, Tiffany, and Morgan visited us and had lunch with us on Sunday.
North Hopkins Elementary School will be open to the public after the PTO program on Thursday, October 8th. Open house will begin around 7:30 and it will be a good opportunity to tour the new facility.
The North Hopkins Alumni Homecoming is almost here. The event will be held on Saturday, October 10th, beginning with registration and Bingo at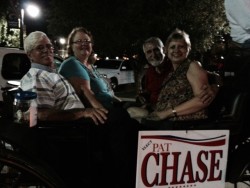 4:30. A BBQ dinner will be served at 5:30, at a cost of $12.50 per person. Following the meal, there will be a brief video presentation honoring the Classes of 1965, 1975, and 1985, and then the Monday Night Jam band will provide musical entertainment. The annual homecoming is for all former students, staff, and their guests. Please pass the word.
I always need and appreciate input from my friends to help keep me informed of news in our community. If you have any news pertaining to Tira residents, past or present, please contact me, Jan Vaughn, at 903-945-2190 or 903-438-6688 or [email protected].