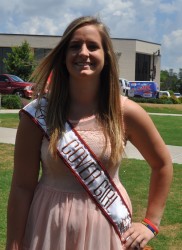 Thursday's Hopkins County Fall Festival will host a number of events and begin preparation for the final and busiest weekend of the event. Exhibitors will set up commercial booths in the regional civic center from 8 a.m. until 4 p.m. Events on the grounds will begin at 10:30 am.
At 10:30 a.m., Lone Star Action Sports –BMX—will be in the Civic Center Driveway doing exhibitions for Sulphur Springs Elementary Schools. The students will also visit the All About Science Show in the Civic Center Arena. The program will be repeated for students at 1 p.m.
From 4:30 p.m. until 6 p.m. in the High School Conference Center, Creative Arts Contestants will register.
The Fall Festival Information booth will open at 5 p.m. and remain open in the Civic Center foyer until 9 p.m. On the Civic Center grounds, exhibits and food court will open. Wagner Carnival opens at 6 p.m. and the Cover Girl contest begins at 6 in the Horse Pavilion. The Cover Girl Contest will feature hay stacking, pattern sewing, and the ever popular cutting up a chicken.
At 7 p.m. Lone Star Action Sports will be at the Skate Park on the south side of Buford Park.