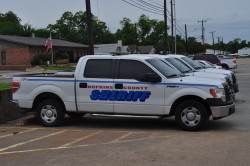 A man from the Ladonia area in Fannin County was arrested at his residence Thursday in connection with a multi-county burglary investigation. Hopkins County Sheriff's Chief Criminal Investigator Lewis Tatum says three recent Hopkins County burglary cases have been cleared with the arrest of the man. One occurred in the western part of the county and two on the east side off of FM 71. Tatum recovered a large trailer and a tractor along with some other items. Fannin and Hunt County investigators, an auto theft unit from Paris and some game wardens all are involved in the case. When Chief Criminal Investigator Tatum arrived at the suspect's property Thursday, he realized he had been there before. He had arrested a man there some eight years ago. Tatum identified the suspect as James Ruehl. Tatum said the man was admitting to several burglaries but he added the man was less forthcoming when asked about where stolen items were now.
Tatum said the location in Ladonia was the same place where he had recovered items eight years ago. Ruehl is also the individual arrested eight years ago. Hopkins County items recovered included a gooseneck trailer with several items on the trailer plus a New Holland tractor. Ruehl is not forthcoming with information regarding other items stolen.
Ruehl is in Fannin County jail being held on charges related to the equipment finds and U S Marshal warrants. Tatum said Fannin, Lamar, and Hopkins County law enforcement would soon discuss how to approach prosecution of Ruehl.