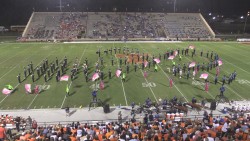 The Wildcats Marching Band earned a one rating at UIL Competition Tuesday and they also advanced to Area competition later this month. Wildcats Band Director Charles McCauley said that inspite of the heat, it was a really good day for the band.
October 24th is the date for Area competition. Area competition will be at Mesquite Memorial Statdium. McCauley said the SSHS band will be one of the first bands to perform because the district is set to be first. McCauley said he would rather be later in the day but there is not option to change. He pointed out that bands from schools located 90 miles or more away from the location of the contest do not perform until after 1 p.m. Therefore, Mt Pleasant and Texarkana will perform in the afternoon. Sulphur Springs is 80 miles from the stadium.
Saturday, October 17, the band will be in competition at Prairlie Land as they prepare for Area.