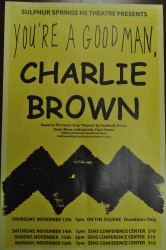 The Sulphur Springs High School Drama Department is putting on You're a Good Man Charlie Brown next month. The first presentation will be 7 p.m. Thursday, November 12 at Celebration Plaza. High School Theatre Arts Lesha Woodard said dress rehearsals being next week and opening night jitters have begun.
On opening night the outdoor presentation on Celebration Plaza will be free admission but donations will be accepted to assist in the cost of the production. Two separate casts will perform the play. The set will not be elaborate. Lucy's psychiatric booth, Schroder's piano, and a few other items will give the comic strip identify to the play.
Three additional performances will be presented in the high school conference center, which is a small venue seating around 120. Those performances will be November 14th, Saturday at 7 p.m., Sunday at 2 p. m. and Monday at 7 p.m. Other performances will be presented at various schools in Sulphur Springs.