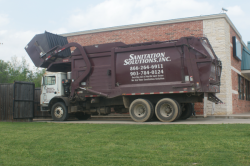 Rates will remain the same. Pick up dates will remain the same. Only the color of the truck will change when the city of Sulphur Springs begins being served by a new sanitation company in January. Sulphur Springs City Manager Marc Maxwell literally talked trash Thursday morning with KSST News. Maxwell said a number of false rumors have been circulating in social media recently. He stated that residents can be assured service will continue with little change. Maxwell said most of the current workers for Republic, the current service company, will be hired by the new service because those individuals know the routes and the rituals.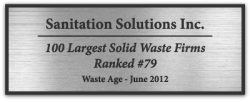 The new contract will keep the expense at the same rate for the city. Sanitation Solutions, the company that will begin the new service, is aggressively expanding its territory according to Maxwell. He said it had been 20 years since changes have been made in trash service companies. This year, the city decided to go out for bids. 
Maxwell said the landfill contract will be ready to bid in seven years. Maxwell stated there are two landfills in the area. One is owned by Republic-Malloy. The other landfill in the area is owned by Sanitation Solutions.