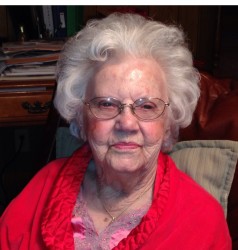 Ruth Plunkett Gillis passed away peacefully on October 7, 2015 in the presence of her family. She was 92.
Mrs. Gillis was born on November 29, 1922 in Cumby, Texas to her parents, Ashley and Vera Plunkett. She graduated from Cumby High School and then the East Texas State Teachers College with a degree in Education. She taught in Merit and Como schools. She married Jack Gillis on May 1, 1943. Mrs. Gillis was a member of the First Presbyterian Church of Sulphur Springs where she served as a Deacon and Elder.  She was also a member of the Women's Circle Group and the Sulphur Springs Waverly Club.  Ruth enjoyed playing a game of dominos or forty-two with family and friends, especially her close friend Wilma Brice.
Mrs. Gillis is survived by her husband of 72 years, Jack Gillis; daughters, Judy Gillis of Sulphur Springs and Janet and Mike Jordan of Mt. Vernon; grandchildren, Ashley and Drew Roberts of San Antonio, Josh and Kayce Jordan of Mt. Vernon, Julianne and Jason Evans of Dallas, and Alison and Charlie Bagley of San Antonio; great grandchildren, Katelyn, Lucy and Anna Ruth Roberts, Emerson and Katherine Jordan, Gillis and Jordan Evans, and Jack Bagley; brother-in-law E.A. Junell of Cumby; and nephew, John and Debbie Gillis of San Antonio.  She is preceded in death by her sister, Donnie Junell of Cumby.
A visitation will be held on October 9, 2015 from 5:30 to 7:30 p.m. at West Oaks Funeral Home.  Mrs. Gillis will be buried in a private ceremony on October 10, 2015 and a memorial service will take place after at the First Presbyterian Church of Sulphur Springs at 2:00 p.m.  All are welcome to attend the memorial service and celebrate the life of Mrs. Gillis.  Pallbearers will be Josh Jordan, Drew Roberts, Jason Evans and Charlie Bagley.  Honorary Pallbearers will be Barry Ward, Jimmy Worsham, Lee Teetes, Alec Bridges, Vic Ponder, Tom Sellers and Randy Hall.  In lieu of flowers, please donate to the Rheumatoid Arthritis Foundation or the First Presbyterian Church of Sulphur Springs.  Arrangements are under the direction of West Oaks Funeral Home.