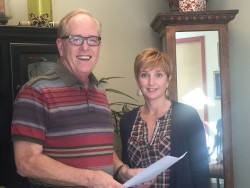 On behalf of the Health Care Foundation board members, Bob Weaver, Foundation Board Chairman is excited to announce the addition of Gena Prickette as event coordinator to the Foundation staff.  "We are thrilled that the Foundation has had so much growth over the past ten years that another person is needed to help with planning the details and coordinating the Lights of Life campaign and gala as well as other additional events hosted by the Foundation" stated Bob.  "We think Gena is the perfect fit to ensure the campaign and events continue for many years to come.  Gena has served on the Foundation board for the past two years and this last year she served as secretary," continued Bob.
Gena currently coordinates the Backpack Buddies program for SSISD that involves six area Churches and seven campuses that provide food each Friday to students dependent on school breakfast and lunches for their nutrition.   She's been on the Dairy Festival board for seventeen years having served as Media Coordinator, Secretary, Queen Liaison, and President and currently serves as Co-chair of the Contestant Committee.   Previously Gena served on the Chamber of Commerce Board of Directors, the CASA Board of Directors, the Junior League Board of Directors and the Board of Trustees for the First United Methodist Church.  She coordinated the Empty Stocking Program for fifteen years.
"I grew up in Sulphur Springs and I'm proud to have returned here to make my home with my husband John and our daughter Caroline. I graduated from SSHS and Southwestern University in Georgetown, Texas.  I'm eager to learn as much as possible about the Healthcare Foundation, the Lights of Life Campaign and the Gala.  I look forward to helping the Foundation to ensure that the wonderful programs and events of the Foundation continue into the future," commented Gena Prickette.
"I am so excited to welcome Gena to the Foundation team" stated Jackie Thornton, Foundation Director.  "It's exciting that we've grown beyond more than what one person can manage.  I know Gena is going to do an awesome job and I am very grateful for the additional help. Her previous experience and talents speak for themselves and I can't wait to incorporate her fresh new fresh that will take the Lights of Life campaign and gala and other Foundation events to new heights", continued Thornton. "We are blessed".