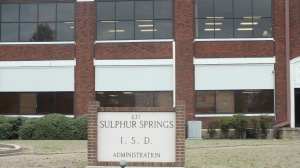 Financial Integrity Rating System of Texas scored Sulphur Springs ISD a perfect score of 30 (passing is 16) on the district's financial management report, according to an announcement made during the public hearing segment of Monday night's SSISD Board meeting. The board meeting was held in the SSISD Administration Building Board/Conference Room.
Red Ribbon Week, a Drug Awareness program, has been set for October 26-30 in Sulphur Springs schools. Robbin Vaughn was named school board representative to the Head Start Policy Council and the real property lease between Hopkins County and SSISD was extended by 10 years. An annual agreement between SSISD and the Sulphur Springs Country Club was also approved.
The board also heard Charlie Wilson, Tandem Consulting Project Manager for the Sulphur Springs ISD's Civic Center Auditorium renovation project, give the school board an update.  She projects an April completion date.  Among progress, Ms. Wilson says the lobby will be completed at the end of this week except for some front doors, scaffolding has been put up inside and a rotting sewer line under the stage is being fixed and rerouted.