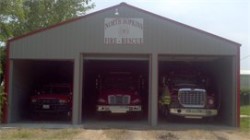 With over 85 percent of Texas fire departments being operated by volunteers, funding for essential equipment and training can be hard to come by. The Texas Legislature allocates funding to Texas A&M Forest Service for pass-through grants to Texas volunteer fire departments in an effort to help them better protect lives and property. This year the agency received $24.3 million to distribute to volunteer fire departments through the Rural Volunteer Fire Department Assistance Program. On Oct. 7, the program awarded $15.7 million in its first of three meetings for the 2016 fiscal year. At least one volunteer fire department in Hopkins County will benefit from the funding. According to Judge Robert Newsom, the North Hopkins Volunteer Fire Department will receive a new fire apparatus. Several other local volunteer departments have applied. 
 "No other state understands or supports their first responders like Texas. By increasing the Rural VFD Assistance Program grant fund, the Texas Legislature drove home that point and we are extremely grateful," Texas A&M Forest Service Director Tom Boggus said. Newsom stated that he and the commissioners will be assisting local volunteer departments to attain funds in future years. 
The program allows TFS to build the capacity of communities by providing funds to volunteer fire departments to purchase life-saving equipment, including firefighting vehicles, fire and rescue equipment, protective clothing, dry-hydrants, firefighting training and training aids.
 "We were honored to present the awards at our first meeting, knowing that they will make a tremendous difference in the protection of life and property," Jason Keiningham, capacity building department head. "These grants provide firefighters with much-needed equipment to more effectively respond to a variety of emergencies."
Established by the 77th Legislature in 2001, the program has provided funds for 1,630 engines, 4,166 grants for fire and rescue equipment, 4,024 grants for protective gear and 17,997 training request for 64,268 firefighters, awarding more than $213 million total since its inception. While we are extremely proud of this accomplishment, there is a big job left to do with $155 million in unmet needs.
All chartered, nonprofit VFDs operated by its members are eligible, and any part-paid, part-volunteer fire department with 20 or fewer paid members is eligible to receive grants through the Rural VFD Assistance Program.
"Time after time I've been told by proud and thankful fire chiefs across the state that this was the first brand new fire truck the department has ever had and what a difference it made in their ability to protect Texans," Boggus said. "We are proud to take part in the Rural VFD Program and will continue to support our first responders."
With the increase in state funding, more departments have the opportunity to get life-saving equipment and training, better protecting communities threatened by wildfire. Additionally, TFS will offer a pilot program which will fully cover the cost of adding a slip-on unit to trucks acquired through the Department of Defense Firefighter Property Program — a federally-sourced program operated by TFS that provides excess military equipment to fire departments and emergency service providers.
To learn more about the Rural VFD Assistance Program visit http://tfsweb.tamu.edu/RuralVFDAssistanceProgram/.