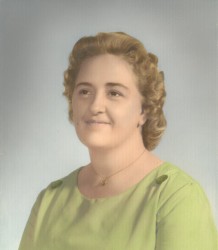 Memorial services for Nancy Landon, age 80 of Sulphur Springs will be held at a later date.
Nancy passed away on Monday, October 26, 2015 at Sulphur Springs, Health and Rehab.  She was born on November 2, 1934, in Elmira, New York. The daughter of Harold and Alice (Kennedy) Horton.  She was a homemaker.
She is survived by her daughters, Joyce Mazerolle and husband, Ralph of Sulphur Springs, Shirley Reus of Sulphur Springs, and Janet Davis and husband, Boris Doles of Killeen; nine grandchildren; twenty-five great-grandchildren; her brother, William Horton of Virginia; and two sisters, Helen Kinney of New York and Annetta Sites of West Virginia.
She was preceded in death by her husband; three sons, Terry Landon, Bruce Landon and Robert Landon; five brothers, Harold Horton, Richard Horton, SR., Clifford Horton, Gordon Horton and Gordon Jones; and two sisters, Shirley Grover and Dora Manwarring.