Hopkins County Memorial Hospital has been notified that on November 6th of this year, they will no longer qualify for Medicaid or Medicare payments. The hospital administration is working to head off termination of their agreement to participate in Medicare and Medicaid programs by November 6 due to failure to meet minimum health and safety standards uncovered in CMS surveys. A meeting with CMS officials will take place Tuesday, October 27th at 1 p.m. and hospital officials hope to get the matter resolved at the meeting or they will begin an appeal process. Michael McAndrew commented on the CMS survey report and following his comments (in this article) are the findings of that report.
In a released comment, Hospital CEO Michael McAndrew stated, "I wanted to take a few minutes to respond to some concerns regarding the announcement that CMS has terminated our Medicare reimbursement on November 6th." McAndrew is meeting with CMS officials.
"One of the things we hope to convince them is that we are not the organization that is portrayed in the Form 2567, which is the evaluation of our organization. We certainly acknowledge that we had some issues identified that needed to be taken care of.  Like any organization we always have opportunities for improvement. The survey team that came in found those opportunities and we addressed them immediately in most cases and set about events to get all them addressed. Some of the items that could not be addressed immediately, we are engaging consultants and are having some construction done.
"One thing I want to do is assure the community that again Form 2567 is not representative of who we are truly as an organization. We have worked very hard over the past 13 years to create an organization that takes really good care of patients.
"We are not a perfect organization and the surveyors from the state helped point some of those things out that we need to fix.  We take ownership of that.  We again have fixed virtually everything that has been identified.
"The reason for the termination is not so much that we had issues, it was that in two separate visits they found issues that they felt were worthy of siting this Immediate Jeopardy. Typically in Immediate Jeopardy situations the goal is to correct the findings while the surveyors are still in the building.  In the case of the second Immediately Jeopardy we were not able to clear it because there were things that we had to get done that could not be done that day.  Again we had to hire consultants and we had to hire construction crews.
"We are going to tell the CMS staff today, we have evidence that we are a good organization and that evidence exists on their websites—hospital compare.gov, where we have very good patient satisfaction scores, very high quality scores and a very low infection rate.
"Did we take this seriously, ABSOLUTELY—certainly one of the most powerful things that has happened to me in hospital management.
"I am very proud of this organization and feel like what has happened is not an accurate reflection of who we are and the care we give."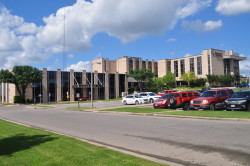 During a complaint survey of Hopkins County Memorial Hospital on August 14th of this year, the Texas Department of State Health Services (TDSHS) cited immediate jeopardy (IJ) for failure to safely administer psychotropic medications in the Emergency Department. Psychotropic medications were administered to patients with no indication and/or when the medication was considered harmful for the patient's medical condition, according to Bob Moos, Public Affairs Specialist for Centers for Medicare and Medicaid Services, Region 6. According to Moos, "One patient diagnosed with Neuroleptic Malignant Syndrome was given a psychotropic medication which resulted in the patient becoming unresponsive and requiring intubation. Neuroleptic Malignant Syndrome is a life threatening neurological condition for which the use of psychotropic drugs is harmful and can cause adverse reactions in patients."
At that time, the survey team for TDSHS determined the hospital had failed to have complete physician orders and clear protocols for anesthetic/sedatives being administered. That the hospital failed to ensure staff followed physician orders when administering the anesthetic/sedative and to ensure that less restrictive alternatives were tried before administration of the psychotropics and sedatives.
On September 30th, a follow-up and full survey visit was conducted with Immediate Jeopardy identified a second time by the survey team. This IJ involved the hospital's failure to provide a safe, sanitary environment to avoid possible transmission of infectious diseases. Endoscopic and surgical instruments were not properly sterilized in accordance to the manufacturer's recommendation. Staff designated to conduct the sterilization of endoscopes and surgical instruments did not have knowledge of sterilizing processes. Following that survey, Centers for Medicare and Medicaid Services issued a notice of final termination on October 22nd.
In the September 30, 2015 report, CMS stated that all patients were at risk for the likelihood of harm, serious injury, and possibly subsequent death regarding patient rights, infection control, and surgical services. The facility was not able, at that time, to implement a plan to abate the IJ so the IJ remained at the survey team exit. According to the Conditions of Participation, the hospital Governing Body, Patients Rights, Infection Control and Surgical Services were out of compliance.
The survey team stated that the patient care/surgical equipment used for invasive surgical procedures were not properly sanitized. They stated that staff responsible for sterile processing did not know the appropriate time to incubate the biologicals. Some floors did not meet the survey team's standards. They stated some were "dull and had no finish" in the surgical area. A cabinet was found to be overflowing with equipment and supplies, a few of which were out of date. The surgical tech told the surveyor that she could re-sterilize what was found in the cabinet. Water leaks under a sink and drippy faucets were also noted. An exterminator's box used to catch bugs to determine what to treat were found to have been in the area for an extended time. They also noted a Trauma Kit just expired. And unused patient bed alarms that were old and not sanitized due to not being used.
Anesthesia was also noted. The survey team said that the anesthesia personnel were not evaluating patients post anesthesia before being discharge from the day surgery care area, nor were they evaluating patients that were admitted to the hospital within the required 48 hours. They said patients were signing consent for anesthesia without family present and were not give options to alternatives to anesthesia.
The survey team stated that the immediate availability of a registered nurse for bedside care of a patient was out of compliance. They said the facility failed to ensure accurate nursing assessments were done and interventions were implemented on patients who were at risk for suicide. They noted one patient that they observed who was hostile to hospital staff, who assaulted a peace officer that claimed to be suicidal was untreated for three hours. They said a suicide assessment and medications were not given immediately.
Infection control did not meet their criteria in several departments due to "unsafe practices that caused increased risk to patients risk of infection."
Old medical records also failed to be stored in a manner to protect them from fire and rodents in the storage building. The Pharmacy failed to ensure emergency medications and other patient medications were stored in a locked area.
In the kitchen, the walk-in freezer had a rectangular plastic tub used to collect water that was dripping from a vent. A couple of bags of meat were open and exposed to air. There was no indication that the meat would be used.
Commentary: "I Trust Hopkins County Memorial Hospital" can be found here.