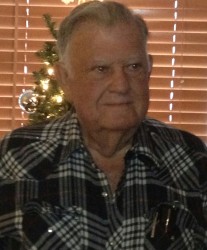 Funeral services for Jerry Jack Hale, age 75 of Sulphur Bluff will be conducted at 11:00 a.m. on Friday, October 23, 2015 at Murray-Orwosky Funeral Home, with Judge Robert Newsom officiating.  Interment will follow at North Hopkins Cemetery with Butch Huie, Joe Chapman, Tony Dehart, Mike Flippin, Max Drummond and Danny Ragsdale serving as pallbearers.  Visitation will be held Thursday, October 22, 2015 from 6:00 to 8:00 p.m. at Murray-Orwosky Funeral Home.
Jerry passed away on Tuesday, October 20, 2015 at Baylor Hospital in Dallas.  He was born on April 30, 1940 in Birthright, the youngest child of Rupert and Minnie Bell (Hart) Hale.  He attended North Hopkins High School before moving to Dallas in 1957, when he started working for the City of Dallas Water Utilities.
He married his school sweetheart, Pearl Chapman, on July 20, 1957 in Hugo, OK. They had three daughters and remained in the Dallas area until Mr. Hale retired in 1991, at which in time they built their dream home and moved to Sulphur Bluff. Jerry Jack enjoyed his morning coffee at the Sulphur Bluff store and loved playing domino's with his friends throughout the community. He was a member of the Sulphur Bluff Baptist Church and Mason Lodge #246.
He is survived by his daughters, Sharon Ortega of Seagoville, Saundra Parker and husband, Charles of Mesquite, and Sheila Price and husband, Craig of Quinlan; his three granddaughters, Misty Nelson and husband Chris, Jessica Galban, and Amber Rice and husband Kyle; three great-grandsons, Christopher Forbes, Dylan Griffith, and Chaselynn Nelson and several nieces and nephews.
Mr. Hale was preceded in death by his wife of 42 years in 1998; parents; two brothers, Junior and S.D. and two sisters, Sue Harris and Arah Walker.
Jerry also left behind his dear friend Judy Kent who was beside him until the end.
Memorials can be made to the ALS Foundation, Gift Processing Center, P. O. Box 6051, Albert Lea, MN 56007 or online at www.alsa.org