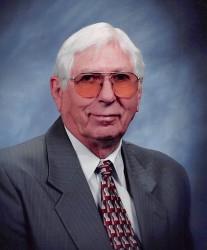 Jackie C. Blount, a fifth-generation resident of Hopkins County, died in Sulphur Springs on October 9, 2015 following an extended illness.  He was born in Sulphur Springs on November 9, 1927, to Elvis Lee Blount and wife, Clara Ruth Simmons Blount.  He married Gladine Ray in 1949.  She predeceased him in 1985.
Jackie, like his father before him, was a car dealer for many years.  He also spent many years in his other career as an independent petroleum landman, acquiring oil, gas, and coal leases on behalf of numerous energy exploration and production companies.  He is survived by sons Ronald Jack Blount and wife, Linda, and Larry Coogan Blount and wife, Angie, all Sulphur Springs; four grandchildren, and three great-grandchildren, as well as numerous nieces and nephews.  He is also survived by his brother, J. M. "Mike" Blount and wife, Sandra, and sister-in-law, Melba Blount, all of Sulphur Springs.  He was preceded in death by two brothers, Charles R. Blount and Jerry K. Blount, and one great-grandchild.
A memorial service for Jackie will be conducted at 10:00 a.m., Wednesday, October 14, 2015 at West Oaks Funeral Home with Rev. Charles Moore officiating.  Visitation will occur one hour before the service, and a private burial will follow at a later date.  Arrangements are under the direction of West Oaks Funeral Home.