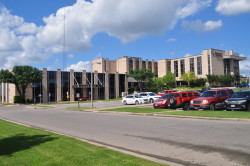 CMS did not wait until Friday or Monday to respond to the request of Hopkins County Memorial Hospital to reinstate the Medicare/Medicaid program and not terminate the program November 6th. In a letter dated October 28, 2015 to Hopkins County Memorial Hospital, the Centers for Medicare and Medicaid Services (CMS) has extended the termination date for Medicare/Medicaid program until November 30th. Hospital representatives had offered several options to CMS during a meeting Tuesday of this week in Dallas. Included in those options was a Systems Improvement Agreement (SIA). CMS agreed to the SIA which allows the hospital to "develop and implement systemic correction at your hospital with the assistance of independent consultative experts."
CMS notified the hospital October 22, that HCMH no longer met the requirements for participation in the Medicare program "because of deficiencies that represent an immediate jeopardy to patient health and safety." The Medicare provider agreement with the hospital was then scheduled for termination on November 6, 2015.
For Tuesday's meeting, Terri Bunch, Chief Nursing officer, Scott McDearmont, M.D., Chief of the Medical Staff, Chris Gallagher, M.D., Chief Medical Officer, Attorney Kevin Reed, Attorney Trent Krienke and Michael McAndrew, Hospital CEO travelled to the Federal Building in Dallas. The purpose of the trip was to meet with representatives from CMS regarding the notice of termination sent on Thursday, October 22, 2015.
McAndrew stated the objective of the trip and meeting was to present information to CMS regarding recent surveys that "we hoped would, at the very least, mitigate the termination and allow us to continue receiving Medicare and Medicaid reimbursement while working through a plan to satisfy their concerns. We felt that our team did a very good job of presenting our side of things. The CMS staff mostly listened and asked a few pertinent questions. At closing, Ms. Ginger Odle who led the meeting told us they would meet together as soon as possible to consider our request to lift the termination. We expect to hear something by the end of this week or Monday at the latest.  As I told Ms. Odle, Form 2567 which lists the surveyors' citations, does not present an accurate or adequate picture of Hopkins County Memorial Hospital. I suggest that if someone wants to see what kind of organization we really are they go to CMS's own website that rates hospitals, Hospital Compare.Gov. The scores on this website clearly demonstrate a history of low infection rates, high quality care and strong patient satisfaction scores."
A summary of the CMS report and the hospital's reaction to it can be found here.