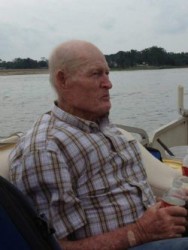 Herman Earl Hazlewood, age 88 of Emory, passed away on Monday, October 5, 2015 in Tyler.Memorial services will be held at 2:00 PM on Saturday, October 10, 2015 at Gafford Chapel UMC in Sulphur Springs; Bro. Henry Suche officiating.
Herman was born on May 20, 1927 in Hopkins County to the late W.A. and Tula Koontz Hazlewood. He served honorably in the U.S. Navy, after completing his service, he worked at the VA hospitals in Dallas and Bonham, before retiring to Emory.
He is preceded in death by his parents; a daughter, Sandra Kern; grandson, Cody Boyd Horton; three sisters, and nine brothers.
He is survived by his loving wife of 65 years, Janie (Hendricks) Hazlewood of Emory; sons, Scott Hazlewood and wife Sharon of Bonham, Randy Hazlewood and wife Connie of Corinth; daughters, Colleen Carson and husband E.J. of Omaha, Cindy Howard and husband Marty of Bonham; twelve grandchildren, and fourteen great-grandchildren.