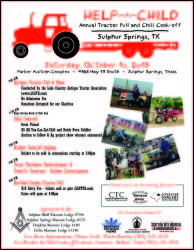 Help a Child 8th Annual event is Saturday at Parker Auction Complex located on Highway 19 South. Wade Bartley was the guest Wednesday on KSST's Morning Show. He told listeners  the passion to help children has been on his heart for a number of years. He stated the event has received community support for three charities. The three charities are the Texas Scottish Rite Hospital for children in Dallas (50%), Northeast Texas Child Advocacy Center which serves eight Northeast Texas counties (25%), and the Southern Christian Home for Children (25%).
He stated that around 15 chili teams will compete for a $500 prize. A briquet contest will also be conducted. He expects around 12 teams to cook briquet. Chili and Dutch Oven Peach Cobbler for $5 for all you can eat will begin serving at 11 a.m. In the afternoon, the consession stand will open for the tractor pull. Brisquet sandwiches will be served.
A tractor pull featuring the Lake Country Antique Tractor Club will begin at 9 a.m. The event is free. At 6 p.m.  the Lone Star Garden Tractor Pull, a group that uses "hot-rod" garden tractors and lawn mowers, will take place. That tractor pull will cost $10 for adults and children 10-years of age and under are free. Bicycles for children will be given away during the evening event.
Twisted creation will make balloon animals for the children present.