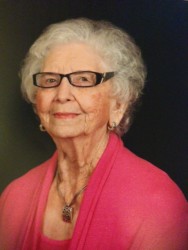 Helen Marie Felton, 90, of Sulphur Springs, passed away Friday, Oct. 9, 2015, after a brief illness.
She was born June 11, 1925 in Josephine, Texas to James and Ida Woodard.  Helen was a graduate of Sulphur Springs High School.  On June 23, 1944, she married Guy Felton who preceded her in death in 2004.
Helen was a committed member of the First United Methodist Church, the Crusader's Class, Young at Heart, the Tanti Club, and the Garden Club.  She worked several years at Steele's Shoe Store and Circle E Western Store before retiring in 1987.
In addition to her husband, she is preceded in death by four brothers and three sisters.  Helen is survived by her two sons and daughters-in-law, Thomas Joe Felton and Rhonda of Rowlett, James Allen Felton and Carmen of Cypress; one sister Della Gamble of Sulphur Springs; four grandchildren, Lindsey Goodwin, Clint Felton, Jordan Felton and Eric Felton, and four great-grandchildren as well as many extended family members.
The family would like to thank Legacy Hospice Care and the third floor nursing staff at Hopkins County Memorial Hospital for their compassion and kindness during her illness.
Visitation will be held at the West Oaks Funeral Home Monday, October 12, 2015, at 1:00 PM with memorial services at 2 PM conducted by Reverend Pete Adrian.   Burial will be in the City Cemetery following the service.  Arrangements are under the direction West Oaks Funeral Home.