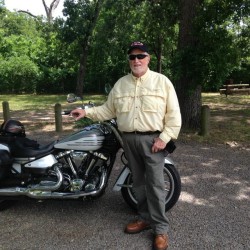 Funeral services for Gene Alley, age 68 of Sulphur Springs will be conducted at 10:00 a.m. on Saturday, October 17, 2015 at Wesley United Methodist Church with Rev. Steve Cook officiating.  Interment with military honors will follow at Mt. Vernon Cemetery with Larry Mahand, Brian Alley, Chad Mahand, John Erwin, Ken Harper and Jerry Sherrell serving as pallbearers.  Visitation will be held one hour prior to the service at the church.
Gene passed away on Monday, October 12, 2015 at his residence.  He was born on May 27. 1947 in Kingman, AZ, the son of Bill and Lucille (Beaty) Alley.  He married Rhonda Pope in Sulphur Springs in 1971.  He served for two tours in Vietnam while in the Navy and then retired as a marketing director from NFC Marketing.
He is survived by his wife, Rhonda; son, Brian Alley of Sulphur Springs and daughter, Mitzi Groboski and husband, Darren of North Little Rock, AR; grandchild, Dominic Groboski and brother, Phil Elkins.
He was preceded in death by his parents and one brother, Robbie Alley.
Memorials can be made to the Veterans of Foreign Wars, 1 Veterans Dr., Sulphur Springs, Texas  75482 or online at www.vfw.org