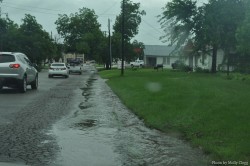 A flash flood watch has been issued for Hopkins County effective late Thursday night, October 22, through 1 a.m.  Sunday, October 25. An upper level storm system to the west will move across the southern Rockies while low level moisture deepens across the area. Rain may be continuous with rates exceeding two (2) inches an hour in some locations. Over time, totals of two to five inches, with some locations exceeding seven inches may occur.
Prolonged heavy rainfall will cause flash flooding of low lying areas, small creeks and streams and poor draining streets and roads. A flash flood watch means that conditions are favorable for heavy rain which may lead to flash flooding. Residents should monitor the latest forecasts from the National Weather Service, which you can do here on ksstradio.com.
Should severe weather occur, KSST radio will be following the and reporting the event.