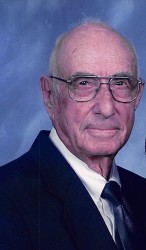 Funeral services for Eldon Harvey Ring, 94, of Sulphur Springs, will be conducted at 10:00 a.m., Monday, November 2, 2015 at Gafford Chapel United Methodist Church with Rev. Jim Goodwin officiating. Visitation will be held one hour prior to service at the church. Military graveside service with the Hopkins County Military Coalition will follow at Ridgeway Cemetery. Mr. Ring passed away Friday, October 30, 2015 at Sunny Springs Nursing and Rehab.
He was born July 22, 1921 in Ridgeway, the son of Marion Harvey and Eva Hight Ring. He married Lila Bell Watson and she preceded him in death. They had one daughter Jalane Ring Edwards, she also preceded him in death. He married Lillian Doris Nordin, she survives. Mr. Ring was a lifetime member of Gafford Chapel United Methodist Church and also attended League Street Church of Christ. He was an Army Veteran of World War II and he was retired from Texas Power & Light after 31 years of service.
Survivors include his grandchildren, Danette Sears and husband Dwayne, and Keith Edwards and wife Angi. Step-daughter, Linda Burgin and husband Joe Bob, step-son, Johnny Nordin and wife Cathy. Great-grandchildren, Dlayne and Dawson Sears, and Pacen Edwards, son-in-law Larry Edwards and wife Linda, all of Sulphur Springs. One sister, Daphne Sims of Dallas, one brother, Larry Ring and Margaret of Sulphur Springs.
He was also preceded in death by his parents and two sisters.
In lieu of flowers, memorials may be made to the Ridgeway Cemetery where he served as president for many years, c/o Ann Doss, 8481 FM 2653 N, Sulphur Springs, TX 75482.
Arrangements are under the direction of West Oaks Funeral Home.