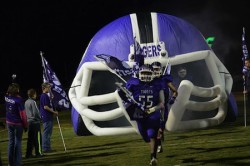 Anything could happen in the remaining two weeks of the regular high school football season according to Coach Dickey Meeks as the Mt Vernon Tigers face the Prairiland Patriots, 7:30 pm, Friday, October 30, 2015 in Patriot Stadium. The outcome of tonight's District 7-3A games will set up the play-off run for next week.
The Tigers and the Patriots both come into the game with a 1-2 District 7-3A record.New Boston and Winnsboro also go into
tonight's
games with a 1-2 record.
Daingerfield leads the district with a 3-0 record after defeating Mt Vernon last Friday night. Redwater is currently in second place with a 2-1 record.
Mount Vernon is looking for one of the four play-off spots going into
tonight's
game. With a win in
tonight's
game and next week's game against Redwater, Mount Vernon could be the second place team in the district.