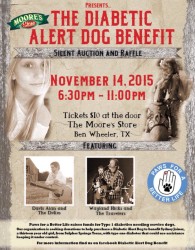 Sydnye is a 14 year old resident of Sulphur Springs and an 8th grader at Sulphur Springs Middle School. In March of 2013 Syd was rushed to Trinity Mother Frances Hospital in Tyler with extremely high glucose levels and other complications and was diagnosed with juvenile diabetes (Type 1). Like all type 1's the daily complications affect every aspect of her life from school, home time and recreational activities. On any given day Sydnye's glucose levels can plunge or soar without warning.
A Diabetic Alert Dog or D.A.D, is a service dog trained to sense these fluctuations, often even before the diabetic themselves is aware of what is happening. This is particularly important for the individual when diabetic levels crash and, even more to the point, when the levels crash while the person is sleeping. During those times crashing levels can plunge the diabetic into a coma or even death.
In 2014 a nonprofit charity named Paws for a Better Life was formed with the purpose of raising money to purchase D.A.D's for diabetics who otherwise would not be able to afford a service dog. Founder Vincent Davis is a Type 1 diabetic. As he sought to raise funds for his own alert dog in 2012, he realized how difficult it is to find the funds. Paws for a Better Life offices in Grand Saline, Texas.
Dogs with this diabetic alert training are quite expensive. Earlier this month Davis, announced that the group's first fundraiser was planned, a concert and auction at Moore's Store in Ben Wheeler, and that Sydnye had been chosen as the beneficiary of all moneys raised until a dog could be provided for her. The event is November 14 and begins at 6:30 with two country bands—Davis Alan and the Dukes and Wayland Hicks and the Travelers.
Donations from anyone wishing to help but  unable to attend the fundraiser can be made via PayPal on the charity's website www.pawsforabetterlife.net. Any individual or business who might be interested in sponsorship or providing an auction item can call Vincent Davis at 903-714-3003 or Kevin Joiner (Syd's father) at 903-307-9014.