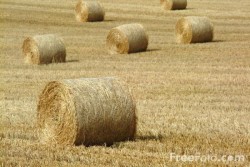 Hay! The 2015 Hopkins County Hay Show winners have been announced, according to Don Smith, member of the Ag Worker's member. Winners were selected by judges from samples submitted by local hay producers. The highest protein analysis as well as the physical score (ie appearance, lack of foreign matter) determined the judge's scores. The top four with score and protein:
Winner name:    Physical score:     Protein:         Buyer:
1. Rickey Glossup         90                         18.35             Alliance Bank $1,050
2. Max Palmer              87                          16.40            City Ntl Bank  $1,000
3. Tom Glossup            85                          14.60            Guaranty Bank,Trust $950.
4. Max Palmer              81                          16.28            Farm Co Inc & Legacy AgCredit  $1,000
Other winners include:
5. Tommy Long
6. Leon Gunn
7. Tom Glossup
8. Rickey Glossup
9. Tommy Long
10. Marilyn Smith, 2014 Winner
The Professional Ag Workers, hosts of the event, raised $8, 925. from the auction. Moneys raised are used for student scholarships and NETLA show needs. The Professional Ag Workers is an organization for local farmers and ranchers and meets quarterly. Two members, Gordon Ford and Gary Spraggins, have prepared the stew served at the NETLA Buyers Lunch for the past 23 years.