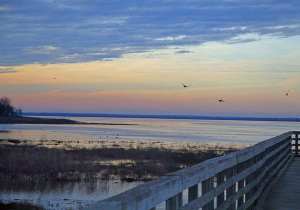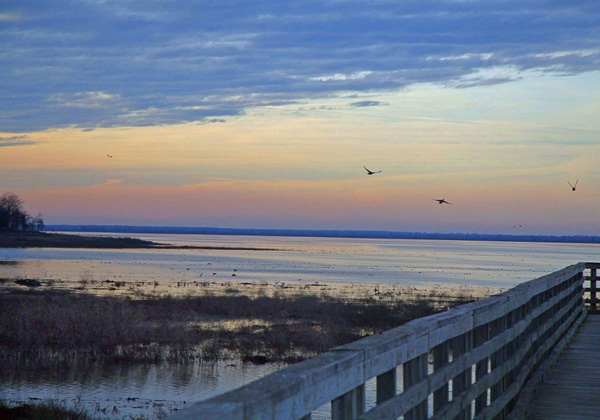 Park officers at Cooper Lake State Park are excited about the wildlife, changing colors, and temperatures that lure people to the area state park. They write, "Here we are 2 weeks into the official fall season and we still have temperatures that rival summer weather. The plants seem to know the difference however. As you drive through the park and view the wildlife you are also greeted with the changing of colors of the leaves. Some may be changing because of drought stress but many are beginning to change because of the season. Temperatures at night and the shortening hours of the sun signal the trees that it is nearing the time to rest for the winter.
"We had a busy September as the temperature began to cool. People have found the park to be a place of enjoyment and a refuge from the business of life. October has continued that trend as camp sites have been booked to capacity.
"Programs will continue beginning with the Dutch Oven program on October 10th and wrapping up on Halloween night on the 31st with a night hike down Coyote Run to "explore the dark side of the park". We will stop along the way and play some night games and tell a story or two. You won't want to miss out on this one!  In between come out and enjoy one of the other programs that will be offered at the park. We would love to have you come visit us!"
SCHEDULE OF PROGRAMS AT COOPER LAKE STATE PARK FOR OCTOBER, 2015
OCTOBER 10
9:30 a.m. LIP SMACKIN' GOOD EATIN'/DUTCH OVEN COOKING – Meet at Honey Creek Amphitheater. Bring a plate and fork to sample the food.
OCTOBER 17
9:30 a.m. GUIDED CANOE TRIP: Meet at Dr's Creek  Park Headquarters. $12 Canoe rental for up to 3  people (Bring water, cap, sun screen). Call the park office to RESERVE your canoe (903) 395-3100.
2:30 p.m. GEOCACHE TREASURE HUNT:  Meet at Honey Creek Amphitheater GPS receivers provided for this program.
OCTOBER 24
2:30 p.m. NATURE HIKE-DISCOVER THE TREES: Meet at Honey Creek Amphitheater
7:30 p.m. WHAT A HOOT: OWL PROWL: Meet at Honey Creek Amphitheater – Red lensed flashlight only.
8:45 p.m. WONDERS OF THE NIGHT SKY/STARGAZING Meet at Honey Creek parking lot.
OCTOBER 31
7:30 p.m. EXPLORE THE DARK SIDE/NIGHT: HIKE Meet at Coyote Run Trailhead and take a night hike to see what comes out at night. Bring water, flashlight preferably with red lense.
PROGRAMS MAY BE CANCELLED BECAUSE OF WEATHER! CONTACT THE PARK OFFICE FOR UPDATED INFORMATION. 903 945-5256