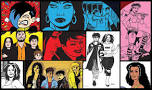 COMMERCE, TX— Texas A&M University-Commerce is excited to host Jaime and Gilbert Hernandez on Thursday, October 15, 2015. The brothers, along with another brother, Mario, are the authors of the long-running comic book series Love and Rockets.  Los Bros Hernandez, as they are known, also have produced multiple works as individual authors and illustrators. The brothers independently published their first issue of Love and Rockets in 1981, and within a year, Seattle-based publisher Fantagraphics Books became the primary outlet for their work.  Love and Rockets focuses on character relationships and their development as opposed to traditional comic book themes of superheroes and villains. The brothers have been nominated for multiple awards including Harvey, Ignatz, and Eisner.  Gilbert received the Best Writer and Best Continuing Series Harvey in 1989, Best Writer/Artist Harvey in 1991, and Best New Series Harvey in 1999 for Luba. Jaime received the Best Artist Harvey and Best Single Issue Harvey for Penny Century in 1999.
Dr. Christopher González of Texas A&M University-Commerce's Department of Literature and Languages describes the Hernandez Brothers as iconic voices in the comics world: "Los Bros are truly royalty in the comics industry. The longevity of their work, now in its fourth decade, speaks to the power and artistry of their stories. They are to alternative comics what Art Spiegelman is to the graphic novel, what Jack Kirby is to the superhero comic, what Charles Schulz is to the comic strip. Perhaps most importantly, Jaime and Gilbert achieved their success without compromising their determination to depict Latinos as complex humans rather than as stereotypes."
They will be speaking in Ferguson Auditorium on the campus of A&M-Commerce at 4 p.m.  Admission is free, and the event is open to the public. The Hernandez brothers' visit is possible due to a grant Latino Americans: 500 Years of History awarded to A&M-Commerce Libraries. Latino Americans: 500 Years of History supports the American public's exploration of the rich and varied history and experiences of Latinos who have helped shape the United States over the last five centuries and who have become, numbering more than 50 million people, the country's largest minority group.
The cornerstone of the project is the six-part documentary film, "Latino Americans," created for PBS in 2013 by the WETA public television station and supported by the National Endowment for the Humanities. The award-winning series chronicles Latinos in the United States from the 16th century to present day. (Learn more about the series at www.pbs.org/latino-americans/en/.)
Latino Americans: 500 Years of History is offered by the National Endowment for the Humanities (NEH) and the American Library Association (ALA). It is part of an NEH initiative, The Common Good: The Humanities in the Public Square.