Chamber Connection – October 22, 2015 by Meredith Caddell
Thank you Hopkins County for Making the Stew Contest a Success

Who would have thought that regardless of 9 inches of rain, we would still be able to have a successful stew contest?  A very special thank you to the 123 teams that cooked stew this year.  Please know how very much we appreciate your dedication to this event.  It is because of you that we continue to have this event for the community!!!!  I always say that to host an event that gathers over 7,000 people in one day is difficult…but to host an event that gathered over 3,000 people in one day in pouring down rain…was INCREDIBLE!!!  It was certainly not ideal conditions, but no one complained.  People just put on their rain boots and celebrated the much needed rain and enjoyed some good'ol Hopkins County Stew on a cool October day!  In my opinion, that just goes to prove how amazing this community is.  We have a tradition, and we continue with it rain or shine.  
I cannot go another day without thanking all of the wonderful people who helped with the stew contest.  It would take 14 pages to list them all but I will try to list them in categories…so here goes…Thank you Chamber of Commerce Board of Directors and Ambassadors…past and present, stew chairman,-Bradley Edge Stew Judges, SSHS Blue Blazes, HC Leadership Class, Teen Court, Juvenile Probation, City of Sulphur Springs, Hopkins County Sheriff's Department and Trustees, A&S Air Conditioning, Travel Time RV, Gary Spraggins, Hopkins County 4-H, 123 Stew Cooks, 161 Sponsors, Prize Money Sponsors, Winning Stew Sponsors, Campsite/Costume Sponsors, Product Sponsors, Goody Bag Sponsors, all of the people who came out and braved the weather to eat stew and to all of those who drove thru to get stew…and my mom, husband, son and daughter!  This event would not have happened without the help of all of these amazing people.  So, if I may take this moment…I would like to say, "Thank you from the Bottom of My Heart!!!"  Mark your calendars NOW for the 2016 Hopkins County Stew Contest, Saturday, October 22nd!
Thank you to everyone who attended the ribbon cutting for B.T. Medical!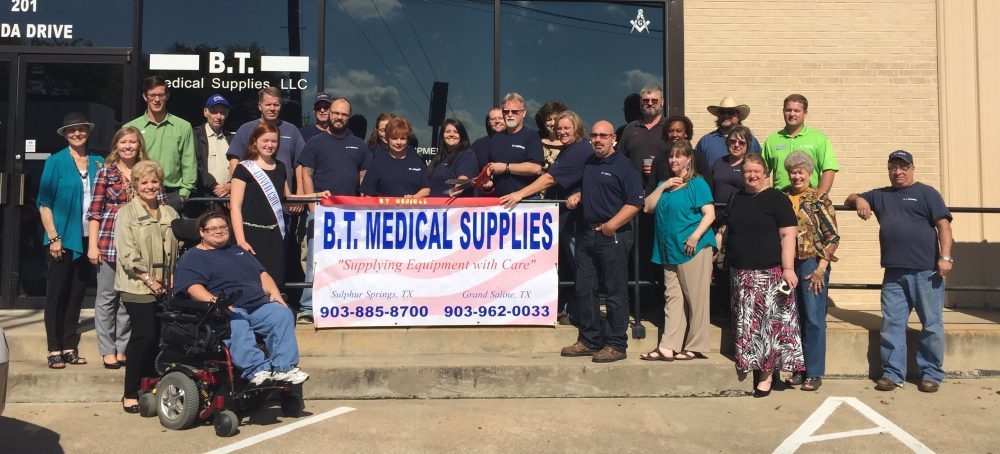 Guests were welcomed by owners Bill Holden and Tommy Anderson.  B.T. Medical is a full service medical supply center.  They have a HUGE showroom with everything you could imagine, from walkers, scooters, braces, oxygen, crutches…plus much more!  They strive to provide the community with all of their medical supply needs.  They offer free delivery and they also have someone on call 24/7.  Please stop by B.T. Medical, located at 201 Linda Drive.  You will be amazed at all of the equipment and services they provide.  Guests were also treated to 2 tables full of homemade food provided by Pam Branstetter!
Hamilton Bake Sale at Sulphur Springs First United Methodist Church Friday, October 30th
The lovely ladies of the Hamilton Bible Class would like to invite you to pick up some delicious treats, Friday morning beginning at 8am, October 30 in Fellowship Hall at FUMC.  They always have yummy cakes, jellies, pies, cookies and TONS more!  For more information, please call 903-885-2185.
Harvest Festival, stew & chili supper Saturday, October 31st  at First United Methodist Church.
Don't miss the annual First United Methodist Church's Harvest Festival, Saturday, October 31st.  The evening begins at 4:30-7:00 with the stew and chili supper.  The movie night for children begins at 6:00 (pre-registration is required).  The live and silent auction begins at 7:00.  For more information please call 903-885-2185.
Scream on the Square, October 31st on Main Street from 1-5pm.  
Come downtown to trick-or-treat at every business.  They will have a costume contest, games, prizes and more.  Select businesses will be offering special discounts.  They will also be showing the Nightmare before Christmas on the square at 8pm.
"A Man Called Jon" Red Carpet Premiere on November 1st at Shannon Oaks.
The film, "A Man Called Jon", was shot on location in Terrell, TX.  We are hoping the city of Sulphur Springs will come out and support this film.  They will be hosting the Red Carpet premiere on November 1, 2015 first screening at 3:00pm-5:00pm and another at 5:30pm-7:30pm at Shannon Oaks Church, 1113 E. Shannon Road, Sulphur Springs.  Tickets are $8 in advance and $10 at the door.  They are hoping to pack it out to send a huge message to Hollywood.  For tickets please call Eric King at 903-348-0404 or visit their website at www.kingandbrownenterprises.com.
20th Anniversary of the Lights of Life Campaign-Kickoff, Tuesday, November 3rd at 10am
Stop by the Memorial Hospital Lobby Tuesday morning, November 3rd at 10am for the kick off for the 20th Annual Lights of Life Campaign.  If you would like to honor or memorialize someone special, you may donate $25 and a light will be placed on the Lights of Life Christmas tree located in The Gardens at Memorial.  All donations are tax deductible and be will be used to help purchase Six LUCAS CPR devices for EMS which will provide them the tools and abilities they need to improve survival rates during cardiac arrest!  
Load the Wagon & Saddle Up for St. Jude Trail Ride, Saturday, November 14th  
Saddle up your horses and help St. Jude Children's Research Hospital fight cancer and other catastrophic diseases.  The event will take place on Saturday, November 14th at Two J Ranch, 993 CR 2331 in Como.  Gates will open at 7:00am, Saddle Up at 9:30 and Ride out at 10:00am.  A free lunch will be provided, but remember…it is a fundraiser to help St. Jude's Hospital, so donations will gladly be accepted.  There will be horses and mule wagon rides available.  There is a $10 minimum donation for you to ride your own horse.  If you would like more information, please call Jean & Jim Murray at 903-488-3030 Sandy Billodeau @ 903-488-3311 or Jr. Gregg at 903-488-3685.  Others assisting in this great event are Cathi & Jim Wright 903-488-4811 Don Meeks 903-488-3456, Mike Mund, T.W. Little, Daniel Walker, Carole Hatch and Jo Marie Neal, so any of them will be able to give you more information.  If you have never participated in this event, it is spectacular and you should!  Not only is it raising money for an amazing hospital, but to see the hundreds of people, loaded up in their wagons, heading out for the cause…it is absolutely incredible, so please try to attend!!
History By Foot with John Sellers, Saturday November, 14th at 10:00am
The Sulphur Springs Downtown Business Alliance presents the 10th Semi-Annual History By Foot with John Sellers.  Join John for a walking tour of downtown Sulphur Springs and discover the history of some of the historical buildings and landmarks and learn what events took place where!  The tour will begin by the flagpole in the center of the Celebration Plaza (square).  They will stroll down College Street and will see the historic Presbyterian Church, down to Jackson Street and over to Jefferson Street by Payne Electric then back up Jefferson to the square.  Lots of interesting buildings in this area that they have not explored on the tour.  Did you know we had an Opera House on Jefferson Street?  Transportation will be available for those of you who have trouble walking.  The tour is only $10.  Please make your reservations early.  A second tour may be available if the first one fills up.  You may make reservations at Alliance Bank, City National Bank or The Hopkins County Genealogical Society at 903-885-8523 or call 903-438-4831.
5th Annual Hopkins County Turkey Trot 5K Run/Walk, 10K Run and Kids Fun Run, Thanksgiving Day!
Make room for your holiday meal by participating in the Turkey Trot benefitting Braden Tinsley and in honor of Micah Reed.  This run/walk is presented by Mother's Culture Club.  The 5K will begin at 8am with a $30 entry fee.  The 10K Run will begin at 8am with a $40 entry fee with a pace <12 minute/mile.  The kids Fun Run will begin at 7:30 with a $5 entry fee for 10 years and under.  It will begin at Celebration Plaza downtown Sulphur Springs.  You may register at Fieldhouse Sports or register online at www.rctregister.com.  Early registration ends November 5 with a t-shirt guaranteed for 5k/10k early registration.  Packet pick up Wednesday, November 25 from 5-8pm at SSFBC the ROC.  This event is sponsored by many caring individuals and local businesses.
That's all for now…have a GREAT week!