Cattleman's Classic & Ribeye Cook-off, Friday, October 16th
NETBIO Annual Meeting, Friday, October 16th
10:00am will have the proclamation for Friday, October 16th as Beef Day
12:00 Beef Council will have a cooking demonstration in Celebration Plaza until the
The Ribeye Cook-off begins at 2:00 on the square with 30 cooking teams, including restaurants and amateurs.  The event is $25 which includes a 14 oz. certified Angus Ribeye, potato all the fixins and tea.  They will also be featuring a concert with Johnny Lee & the Urban Cowboy beginning at 8:00pm.  The concert is open to the public.  For more information, please call the Extension Office at 903-885-3443 or Texas Heritage National Bank at 903-438-2000.
Thank you to everyone who attended the Grand Opening & Ribbon Cutting for Aluf Plastics!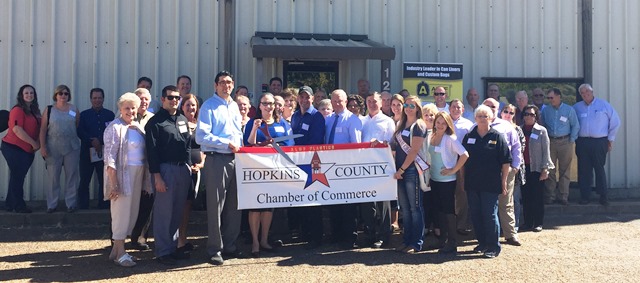 Guests were treated to a fabulous catered meal before the owner, Susan Rosenburg of Aluf Plastics greeted the crowd and expressed how welcomed they have been since moving to Sulphur Springs.  Joe Rosenburg welcomed guests and introduced their executive staff along with sales reps from around the area.  Then, Jason Doss, Local Manager of Operations took the guests on a tour to see how the can liners and trash bags are produced.  It was fascinating!  We are so happy to have them in Hopkins County and know that they will continue to grow and be successful!!!
Record # of Cooks for the Stew Contest, October 24th at Buford Park!  Get your tickets NOW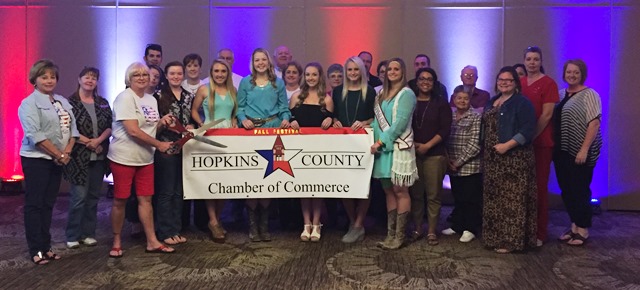 Stew Cooks have been pouring in over the past few weeks and we will have the most stew cooks EVER!  In 2014, we had 154 stew cooks.  To date, we have 161 stew cooking teams.  So, mark your calendars NOW to spend your Saturday, October 24th in Sulphur Springs for the World Champion Hopkins County Stew Contest…it is going to be a GREAT event! For just $5, you can get a bowl and make your way around Buford Park and sample as many of the yummy stews you can eat!  Go straight to the service tents and not have to wait in line to purchase a ticket…Tickets are on sale NOW at Alliance Bank, City National Bank, Guaranty Bank & Trust, Pilgrim Bank, Texas Heritage National Bank and the Chamber Office!
Heritage Corvette Classic Rally & Show, October 23rd & 24th  
The Heritage Corvette Classic has grown to over 200 cars since 2009.  This year kicks off long term plans for an annual "Regional" event.  Based on a rally format, there will be exciting activities. Both Friday & Saturday.  For more information and to register, go to www.ssvetteclub.com.
Thank you to everyone who attended the ribbon cutting & business after hours for Fall Festival!
Hopkins County Fall Festival will be held October 17th – 25th. The Fall Festival will kick off Saturday, October 17th with the parade. The Cover Girl competitions will be Tuesday, October 20st and Thursday, October 22nd. The carnival will begin Thursday, October 22nd. Friday, October 23th and Saturday, October 24th will be two days full of exhibits, arts and crafts, creative arts show, events, games and concerts.
For more information on Fall Festival Activities visit www.hopkinscountyfallfestival.com
Hopkins Place to celebrate all Veterans with special guest speaker Derek Jameson, October 29th
With Veteran's Day quickly approaching, Hopkins Place would like to celebrate ALL Veterans with a special guest speaker, Derek Jameson.  The event will take place Thursday, October 29th from 6:00-7:00pm.  For more information or to RSVP, please call Sherrie at 903-439-1202.
Hamilton Bake Sale at Sulphur Springs First United Methodist Church Friday, October 30th
The lovely ladies of the Hamilton Bible Class would like to invite you to pick up some delicious treats, Friday morning beginning at 8am, October 30 in Fellowship Hall at FUMC.  They always have yummy cakes, jellies, pies, cookies and TONS more!  For more information, please call 903-885-2185.
Harvest Festival, stew & chili supper Saturday, October 31st  at First United Methodist Church.
Don't miss the annual First United Methodist Church's Harvest Festival, Saturday, October 31st.  The evening begins at 4:30-7:00 with the stew and chili supper.  The movie night for children begins at 6:00 (pre-registration is required).  The live and silent auction begins at 7:00.  For more information please call 903-885-2185.
Scream on the Square, October 31st on Main Street from 1-5pm.  
Come downtown to trick-or-treat at every business.  They will have a costume contest, games, prizes and more.  Select businesses will be offering special discounts.  They will also be showing the Nightmare before Christmas on the square at 8pm.
"A Man Called Jon" Red Carpet Premiere on November 1st at Shannon Oaks.
The film, "A Man Called Jon", was shot on location in Terrell, TX.  We are hoping the city of Sulphur Springs will come out and support this film.  They will be hosting the Red Carpet premiere on November 1, 2015 first screening at 3:00pm-5:00pm and another at 5:30pm-7:30pm at Shannon Oaks Church, 1113 E. Shannon Road, Sulphur Springs.  Tickets are $8 in advance and $10 at the door.  They are hoping to pack it out to send a huge message to Hollywood.  For tickets please call Eric King at 903-348-0404 or visit their website at www.kingandbrownenterprises.com.
Load the Wagon & Saddle Up for St. Jude Trail Ride, Saturday, November 14th  
Saddle up your horses and help St. Jude Children's Research Hospital fight cancer and other catastrophic diseases.  The event will take place on Saturday, November 14th at Two J Ranch, 993 CR 2331 in Como.  Gates will open at 7:00am, Saddle Up at 9:30 and Ride out at 10:00am.  A free lunch will be provided, but remember…it is a fundraiser to help St. Jude's Hospital, so donations will gladly be accepted.  There will be horses and mule wagon rides available.  There is a $10 minimum donation for you to ride your own horse.  If you would like more information, please call Jean & Jim Murray at 903-488-3030 Sandy Billodeau @ 903-488-3311 or Jr. Gregg at 903-488-3685.  Others assisting in this great event are Cathi & Jim Wright 903-488-4811 Don Meeks 903-488-3456, Mike Mund, T.W. Little, Daniel Walker, Carole Hatch and Jo Marie Neal, so any of them will be able to give you more information.  If you have never participated in this event, it is spectacular and you should!  Not only is it raising money for an amazing hospital, but to see the hundreds of people, loaded up in their wagons, heading out for the cause…it is absolutely incredible, so please try to attend!!
59th Annual Reilly Springs Jamboree, Saturday, October 17th from 6-10pm
The Reilly Springs Jamboree will feature Enola Gay, Roger Reed and special guest Alina Tatum Sanders.  The will have a special tribute to Hopkins County Sheriff Butch Adams, chili, cake walks, door prizes, country & gospel family entertainment, silent auction & much more.  Admission is only $10/person.  Uniformed Law Enforcement Admitted FREE.  For more info, please contact Enola Gay at 903-438-3568 or visit reillyspringsjamboree.com
We would like to welcome our newest members to the Chamber of Commerce:
Magnolia Junction
211 Magnolia Street
Sulphur Springs, TX 75482
903-243-1200
Mary Campbell
Antiques & Furniture Restoration
Meredith Caddell
President/CEO
Hopkins County Chamber of Commerce
300 Connally Street
Sulphur Springs, TX 75482
903-885-6516 (fax)