Chamber Connection  
October 1, 2015 by Meredith Caddell
Visit the Chamber's Facebook Page to Like your favorite Stew T-shirt!  Ends Friday!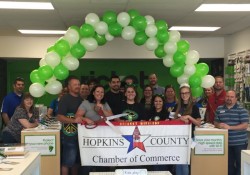 Thank you to everyone who attended the ribbon cutting for Cricket Wireless!
We are happy to welcome Cricket Wireless to the Chamber of Commerce.  Please stop by and check out their amazing cell phone plans and rates!    They are located at 1217 S Broadway Street in Sulphur Springs!  
John Chester Dutch Oven Cooking Contest- October 3rd, 2015
Don't miss the annual John Chester Dutch Oven Cooking contest. Each team will consist of 2 cooks who will prepare a meat, vegetable, bread, and dessert. Entry fee is $25 and cooks must furnish ingredients for their dishes. Cash prizes for First, Second and Third place. For full details and an entry form contact Rick Wilson at (903) 885-9692.
Lights of Life Half Marathon-October 3rd benefitting the HC Health Care Foundation
Registration is $75 for an individual entry, $80 for Partner Relay (2 person) or $100 for a Team Relay (4 person). You may register Saturday morning from 6:45-7:10 at Celebration Plaza.  For more information please call 903-438-4799.  If you have already registered, packet pickup will be Friday, October 2nd from 6-9pm at Celebration Plaza.  
Sassy Classy Afternoon Tea benefitting Lights of Life Campaign & Gala, Thursday, October 8th
Years ago, we weren't as busy as we are today and we had time to "be still" and enjoy friendships.  Let's re-create those special friendship moments while sipping afternoon tea. "Hats would be fun, but not required!
The Tea will take place Thursday, October 8th from 4-6 at Sulphur Springs City Hall, 201 N. Davis.  It is a $40 donation, which includes Champagne!  Please make reservations ASAP, by calling 903-438-4799.  Etiquette tips will be presented by Emily Glass.  Tea Hostesses are Danna's, IdziBitzy Bakery & City of Sulphur Springs
Live 2 Lead Conference featuring John C. Maxwell, October 9th at Texas A&M Commerce
Live 2Lead is a half-day, leader development experience designed to equip attendees with new perspectives, practical tools and key takeaways.  They will learn from world-class leadership experts, be prepared to implement a new action plan, and start leading when they get back to the office with renewed passion and commitment!  For more information and to get tickets, please call 903-461-1823 or visit the website www.Learn-Live-Lead.com
Stew Cook Meeting, Tuesday, October 13th & Stew Tickets go on Sale October 13th
All Stew cooks, please mark your calendars for the stew cook meeting that will be Tuesday, October 13th at 6:00pm at the Southwest Dairy Museum. We will distribute the ingredient checks and go over any changes to the stew contest!  Also, tickets for the stew contest will go on sale the same day.  They will be at Alliance Bank, City National Bank, Guaranty Bank & Trust, Pilgrim Bank, Texas Heritage National Bank & the Chamber of Commerce!  Once again, tickets are only $5.
Ribbon Cutting & Grand Opening for Aluf Plastics, Tuesday, October 13th from 11:30-1:30
Aluf Plastics is pleased to invite you to the grand opening and ribbon cutting celebration of their state-of-the-art manufacturing facility.  They will have a VIP Tour, BBQ Lunch & Raffle Prizes.  Please RSVP to 845-365-2200×406 or email [email protected]!  
"A Man Called Jon" Red Carpet Premiere on November 1st at Shannon Oaks.
The film, "A Man Called Jon", was shot on location in Terrell, TX.  We are hoping the city of Sulphur Springs will come out and support this film.  They will be hosting the Red Carpet premiere on November 1, 2015 first screening at 3:00pm-5:00pm and another at 5:30pm-7:30pm at Shannon Oaks Church, 1113 E. Shannon Road, Sulphur Springs.  Tickets are $8 in advance and $10 at the door.  They are hoping to pack it out to send a huge message to Hollywood.  For tickets please call Eric King at 903-348-0404 or visit their website at www.kingandbrownenterprises.com.
Load the Wagon & Saddle Up for St. Jude Trail Ride, Saturday, November 14th  
Saddle up your horses and help St. Jude Children's Research Hospital fight cancer and other catastrophic diseases.  The event will take place on Saturday, November 14th at Two J Ranch, 993 CR 2331 in Como.  Gates will open at 7:00am, Saddle Up at 9:30 and Ride out at 10:00am.  A free lunch will be provided, but remember…it is a fundraiser to help St. Jude's Hospital, so donations will gladly be accepted.  There will be horses and mule wagon rides available.  There is a $10 minimum donation for you to ride your own horse.  If you would like more information, please call Jean & Jim Murray at 903-488-3030 Sandy Billodeau @ 903-488-3311 or Jr. Gregg at 903-488-3685.  Others assisting in this great event are Cathi & Jim Wright 903-488-4811 Don Meeks 903-488-3456, Mike Mund, T.W. Little, Daniel Walker, Carole Hatch and Jo Marie Neal, so any of them will be able to give you more information.  If you have never participated in this event, it is spectacular and you should!  Not only is it raising money for an amazing hospital, but to see the hundreds of people, loaded up in their wagons, heading out for the cause…it is absolutely incredible, so please try to attend!!
We would like to welcome our newest members to the Chamber of Commerce:
Brightstar Church
525 Gilmer Street
Sulphur Springs, TX  75482
Michael Branch, Pastor
903-440-2806
Soundmind Productions
5755 CR 1100
Sulphur Springs, TX  75482
903-440-2806
Michael Branch, Owner
Video Production
That's all for now…have a GREAT week!