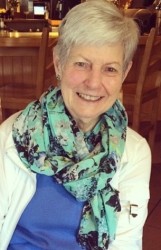 Memorial services for Cecile Roberts, age 79 of Sulphur Springs will be conducted at 1:30 p.m. on Saturday, October 17, 2015 at the First Baptist Church–Sulphur Springs with Rev. Fred Lewis and Rev. Tommy Johnston officiating.  There will be no formal visitation.
Cecile passed away on Wednesday, October 14, 2015 at Hopkins County Memorial Hospital.  She was born on February 1, 1936 in Red River County, the daughter of William and Bertha (Pyles) Sweeden.  She married Jones Roberts in 1953 in Clarksville.  She retired from the Texas Department of Health and Human Services as an administrative clerk; was a member of the First Baptist Church – Sulphur Springs and the Waverly Club.
She is survived by her husband, Jones; sons, Bruce Roberts and wife, Kim of Sulphur Springs and Rickey Roberts of Sulphur Springs; daughter Karen McCormack and husband, Sput of Sulphur Springs; grandchildren, Brooks Roberts, Whitney Waller, Lane Roberts, Morgan McCormack and Lindsey McCormack; five great-grandchildren and sister, Cornelia Raulston.
She was preceded in death by her parents and brother, Tate Sweeden.
Memorial can be made to the First Baptist Church–Sulphur Springs, Building Fund, 116 Oak Ave., Sulphur Springs, TX  75482.