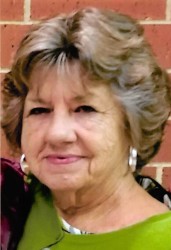 Graveside Service for Carolyn Lynn Ethridge, age 69, of Sulphur Springs, TX, will be conducted at 2:00 p.m., Sunday, November 1, 2015 at Brashear Cemetery with Rev. Charles Ethridge officiating.  Pallbearers will be Andy Crouch, Mark Copeland, Will Ethridge, Ryan Stracener, Ron Poskey, John Elmore and Clay Randolph.  Honorary pallbearers will be Aiden Ethridge, Wesley Mark Randolph, Roper Ray Elmore and Lewis "Dumpy" Potter.  Visitation will be from 6:00 to 8:00 p.m., Saturday, October 31, 2015, at West Oaks Funeral Home. Carolyn passed away on Thursday, October 29, 2015, at Hopkins County Memorial Hospital.
Carolyn was born on January 6, 1946, the daughter of Phil P. Sartin and Norma Jean Bretten Sartin in Sulphur Springs, TX.  Carolyn married Wesley Freeman Ethridge on January 10, 1964.  He survives.  Carolyn was a member of First Baptist Church in Sulphur Springs, and worked for Brookshire's for 10 years as a Pharmacy Tech.
She is survived by her sons, Brad Ethridge and wife Kristi of Tyler, TX, and Keith Ethridge and Tammy of Sulphur Springs, TX, grandchildren, Will Ethridge, Whitney Ethridge, Kailey Cotter, Francis Ethridge, Shelby George, Aiden Ethridge and Joanna Ethridge, great-grandchild, Kayley Rickbaugh.
She is preceded in death by her parents.
Arrangements are under the direction of West Oaks Funeral Home.