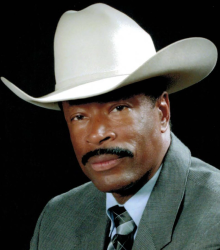 Barry Washington announces his candidacy, Hopkins County Republican Primary for Hopkins County Sheriff. Barry will face two already announced. Barry's twin brother Harry and County Chief Investigator Lewis Tatum have also announced their intent to seek the Republican nod.
Barry Washington is a Sulphur Springs native, son of Troas and Virginia Washington, with two brothers, Harry and Donald, and a sister Jeanise Johnson.
Barry graduated from Sulphur Springs High School in 1975, then attended and graduated from John Brown University. Before becoming a state trooper, Barry Washington was a high school teacher and coach for two years.  He retired from the Texas Department of Public Safety with 25 years of service and was Deputy Marshall at Tenneha, TX and Probation Officer; he has 30 total years in law enforcement.
Barry Washington has vision to unite residents, churches and schools around a common cause that will make a long term difference in the county, starting with children and young people. He believes in training them in the way that they should go so that when they are older they will not depart from it, Proverbs 22:6, through mentoring programs. Barry Washington has the experience to do this. He has management experience as a Highway Patrol Corporal and as a Narcotics Sergeant Investigator for the Department of Public Safety. Barry tested academically and went before 3 Texas Ranger boards. He applied for U.S. Marshal in the East Texas District during the George W. Bush presidency and was one of three finalists that were chosen to be interviewed by Phil Graham and Kay Bailey Hutchison for the position.
Barry Washington was featured in Real Stories of Highway Patrol and Parade Magazine for leading Texas in interdiction stops after the International Conference of Chiefs of Police and Sheriff's
Association and for mentoring high school age young people.  Barry attends First Baptist Church of Sulphur Springs.