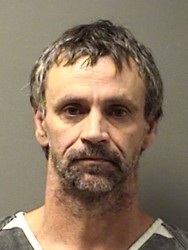 Timothy Darren Cameron, 47, of Van Buren, Crawford County, Arkansas currently resides in Hopkins County Jail on a $50,000 bond following his arrest in Arkansas. He is charged with sexual assault of a child. According to Rusty Stillwagoner, Chief Investigation Officer with the Sulphur Springs Police Department, Cameron met a local 15 year old female on Facebook in June and developed relationship. They made personal contact in July in Sulphur Springs and participated in sex.
The online relationship continued through September when they met again in Sulphur Springs. After that encounter, the minor attempted to break off the relationship. Cameron had other plans. He contacted the minor's family members here by Facebook Messenger and told them about the relationship. The family contacted city police.
Chief Investigator Stillwagoner interviewed the minor who made an outcry for help. That outcry, along with other evidence was used in obtaining a warrant for Cameron's arrest. Crawford County law enforcement made the arrest and Cameron was extradited to Hopkins County.