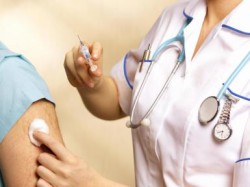 The Hopkins County Memorial Hospital Health Care Foundation that has the annual Lights of Life and Gala campaign to raise funds for equipment for the hospital will be offering a service for those in need as a way to give back to the community. On KSST's Good Morning Show with Enola Gay Monday , Bob Weaver, Chairman of the Board for the Hospital Foundation and  Jackie Thornton, Director of the Foundation, announced 125 free flu shots to be given Wednesday from 11 a.m. until 1 p.m. in partnership with The Dinner Bell at First United Methodist Church. The Dinner Bell serves a hot meal to those in need each Wednesday.
Those on Medicare and Medicaid will not be receiving the free shot Wednesday. Those on Medicare and Medicaid the cost of the shots are covered and can be received in other venues.  The free flu shots are for those who would not normally be able to receive the shots due to cost. This preventative measure is in keeping with current healthcare practices.
Thornton said this is another outreach of the Lights of Life campaign. Thornton credited Weaver with the idea of giving the free flu shots.