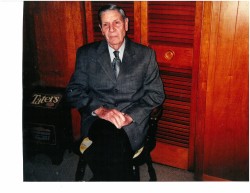 Funeral services for Alfred C. Willis, age 84 of Sulphur Springs (Birthright) will be held at 10:00 a.m. on Friday, October 9, 2015 at Murray-Orwosky Funeral Home with Shane Carrington officiating.  Interment will follow at Posey Cemetery with Kurt Willis, Brian Willis, Rickey Willis and Stelvin Dial serving as pallbearers.  Honorary pallbearer is Cade Willis.  Visitation will be held from 6:00 to 8:00 p.m., on Thursday, October 8, 2015 at Murray-Orwosky Funeral Home.
Alfred passed away on Tuesday, October 6, 2015 at his residence.  He was born on February 26, 1931 in Posey, the son of Jerry Lewis and Jeannette (Vaughn) Willis.  He married Lois Pate on January 29, 1955.  She preceded him in death in May, 1996.  He then married Willa Jones on May 10, 1997 in Willow Park.  He served in the U.S. Army, was a dairy farmer and a member of the North Hopkins Church of Christ.
He is survived by his wife, Willa; sons, Carroll Willis and wife, Linda of Birthright and Herbie Willis and wife Cindy of Birthright; step-daughter, Lana Caballaro of Anchorage, Alaska; step-son, Lamar McLarey of Tyler; brother, Jerry Willis of Rockwall; sister, Dortheal Speed of Posey; six grandchildren, Deanne Dial, Kurt Willis, Leanne Willis, Brian Willis, Rickey Willis and Cade Willis along with eight great-grandchildren.
He was preceded in death by his parents; sister, Geraldine Howell and great-grandchild, Keanon Willis.