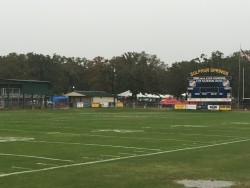 After a day of heavy rains, Wildcat football met the Pine Tree Pirates on a neutral, and more dry field, at Wildcat Stadium located on the campus of Rains High School in Emory. A flooded and saturated field at Prim Stadium forced the 20-plus mile trip to a class 3-A turf playing field. Due to the rains, the seating was more than adequate on both sides of the field.
The game was a tale of two halves Friday night as the Wildcats dominated the first half leading 14-0 only to see Pine Tree score 31 unanswered points in the second half for a 31-14 win.  The Wildcats remain winless.  The Wildcats got touchdown runs from quarterback Ryan Humphries and back Jaxon Reneau.
The Wildcats travel to Longview next Friday. The Lobos defeated Mount Pleasant 51-0 Friday night. In other 15 5-A action, Texas High surprized Marshall 27-7 and Hallsville downed Greenville 42-14.