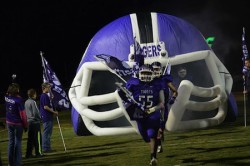 The Mount Vernon Tigers roll into Daingerfield to take on the Blue Tigers, 7:30, Friday, October 23, 2015 in Daingerfield, Texas. After an impressive victory over longtime rival Winnsboro last week, Mount Vernon is looking toward a chance at the postseason.
Both teams bring a 2-5 season record into Friday's game. However, Daingerfield boosts a 2-0 district record while Mount Vernon has a 1-1 record in district play.
Daingerfield is a good team with a wide receiver already committed to Baylor according to Coach Dickey Meeks.
Mount Vernon will be striving for their first play-off chance since 2005. A win over Daingerfield will place the purple Tigers in a prime spot for the play-offs.